Article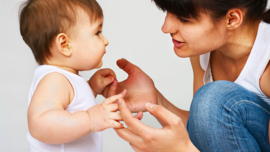 Where do babies get their words?
Our literacy expert answers where, how and when babies gain language skills.
Reading & Writing

Make your voice heard
Play with your voice to show your baby the difference between loud & soft and high-pitched & low-pitched sounds.
Reading & Writing

It's rhyme time
Reading or reciting nursery rhymes introduces babies to the rhythm of language. Long before your baby can utter a word, much less rhyme words, he can listen to rhymes and start to internalize the patterns in language. And babies love predictable language, which explains why you'll tire of a rhyme long before he does!
Reading & Writing

Reading & Writing

Reading & Writing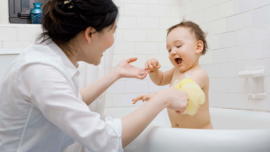 Itsy bitsy spider
Finger plays like Itsy Bitsy Spider introduce new vocabulary and help little ones coordinate words with finger motions.
Reading & Writing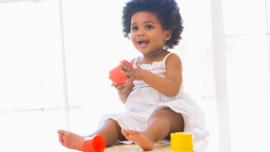 Over and under
With a block and a small container, your baby can learn position words.
Reading & Writing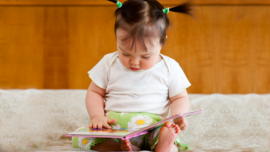 Baby's got books
Even before babies can pick up books and turn the pages, they will enjoy being surrounded by colorful, familiar board books.
Reading & Writing