Big toddler, big talker
We've got tips and ideas to nurture the development of your growing toddler.
Activities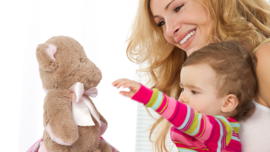 Meet your feet!
Play Simon Says to teach your child the parts of the body, from head to feet.
Reading & Writing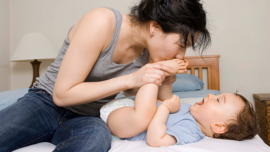 Hold my hand
Playing simple games together helps your toddler learn new words while providing important bonding time.
Personal & Social Skills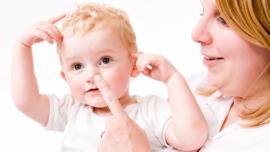 Touch your nose
Play this little game to help your toddler learn new words, and have some silly fun!
Language Learning

Videos

Video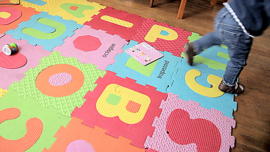 Reading to toddlers
How do you read to a squirmy toddler? LeapFrog Literacy Expert Dr. Carolyn James has help for parents of toddlers who won't sit still!
Reading & Writing


Video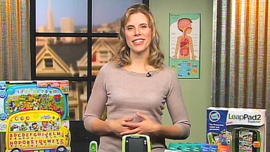 Best toys for 1-year-olds
Our learning experts explain how to choose the best educational toys for your new toddler.
Personal & Social Skills

Discussions
When should I bring my toddler to the dentist?
The American Academy of Pediatric Dentistry advises parents to bring their child to the dentist for a first visit when the child's first tooth arrives or by age 1, whichever comes first. If your toddler has not yet visited the dentist, find a pediatric dentist with experience with young patients. To ensure a positive experience, role p...
Personal & Social Skills

What physical milestones should my toddler reach by age 2?
While keeping in mind that every child is different, there are some physical milestones children generally reach by age 2. If your child is not walking alone by age 2, speak with your pediatrician. Most children also pull toys while walking, can carry toys while walking, are running, can stand on tiptoe, kick a ball and climb. If you h...
Personal & Social Skills

Should I send my 2-year-old to preschool?
Whether or not to send a child to preschool at any age is a personal family decision. Many preschools with 2-year-old programs are similar to day cares with a few more formal educational activities. To determine if your child is ready for preschool, consider whether or not he or she can comfortably separate from you for several hours, ...
Personal & Social Skills

Articles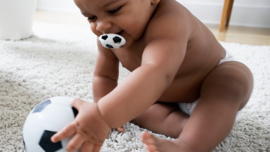 What is motor development?
What's the difference between fine and gross motor skills? Here's what you need to know.
Personal & Social Skills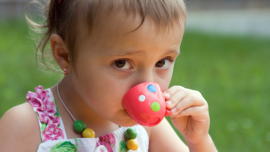 Bringing their best behavior
The time you spend with your child is filled with opportunities to talk about appropriate behavior.
Personal & Social Skills

Creativity & Life Skills

Learning Tips
Stranger anxiety?
Your baby has been happy to be passed from grandma to your sister to the new sitter ... until now. What's up?
Personal & Social Skills

Bathtime bubbles
Liven up bathtime by giving your child bubbles to blow, count, pop and play with.
Science

Logic & Problem Solving