New! LeapPad® Academy Educational Tablet
Our kid-safe out of the box tablet features extensive parent controls and has exclusive access to educator-approved† learning content that prepares kids for school and beyond.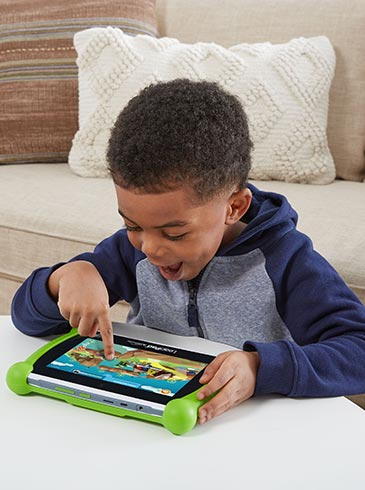 One-of-a-kind tablet that grows with your one-of-a-kind kid!
Develop math, reading, writing, coding, problem-solving and creativity skills with 20+ preloaded, educator-approved apps on the LeapPad
®
Academy tablet.
Access to LeapFrog App Center for hundreds of games, apps, videos, music and more (sold separately)*


Includes a FREE 3-month trial of

LeapFrog Academy

™, an online learning program with 2,000+ games and activities



7" shatter-safe screen and built-in bumper and kickstand for durability
Shop the App Center for hundreds of games, videos, eBooks and apps. We offer a personalized and FUN learning experience, covering everything from STEM (science, technology, engineering and math) to creativity and social understanding.
Kids will get excited about learning with game cartridges for LeapPad® Ultimate tablets and game downloads featuring their favorite characters!
† The LeapFrog educator team reviews and approves all LeapFrog content.
* Games, videos, eBooks and other apps sold separately.