LeapPad2™
Download Software
Install LeapFrog Connect to manage your device, download apps, and collect rewards.
Parent Guide
View the LeapPad2 Parent and Quick Start Guides for detailed instructions on setting up your device.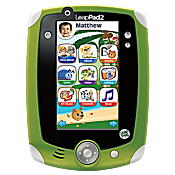 Where are my Apps?
Did you purchase apps but cannot find them on your LeapPad? Click here for more information.
Contact Support
United States & Canada
United Kingdom & Ireland
Australia & New Zealand
All Other Countries