Personal & Social Skills

Revving fine motor skills
Kids' ability to grasp objects develops gradually from grabbing with the whole hand to holding a pencil between fingers.
Reading & Writing

Emotional roller coaster?
During the toddler years, children begin to figure out how things work. They want to be independent, yet they struggle with their own abilities. It's normal for toddlers to have emotional highs and lows.
Personal & Social Skills

What if my baby isn't walking yet?
As with every developmental milestone, babies walk in their own time. About 50% of babies walk by one year but that still leaves another half of babies that will learn between 12 and 16 months. Babies who are more interested in fine motor or verbal development may walk later than their more physical peers. The use of bouncers and walke...
Personal & Social Skills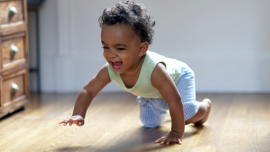 Get your morning in motion
Develop a morning routine that makes it fun to get up and start your day.
Personal & Social Skills

My son is grinding his teeth. How do I get him to stop?
Two to three of every 10 kids grind their teeth. However, most will outgrow this habit by the age of six, or by the time all the permanent teeth have come in. The reasons for teeth grinding, or bruxism, are unconfirmed. Some children may develop the habit as a reaction to growing pains or times of stress. Help your child settle into a ...
Personal & Social Skills

How do I teach my child to spit in the sink after brushing?
Children are natural imitators. In order for your child to learn how to brush properly, it helps for parents or siblings to act as role models. Try brushing your teeth alongside your little one, or enlisting the help of your older children, to demonstrate the proper order of brushing, rinsing, and spitting. The spitting part may not co...
Personal & Social Skills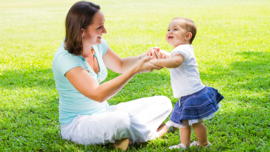 Five little ducks
Get counting and motor skills "quacking" with this popular finger play!
Language Learning


Article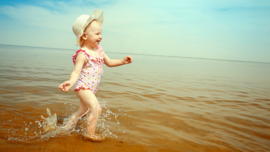 Your toddler
From walking and talking to problem solving and pretend play, your child is experiencing the world in a brand-new way.
Reading & Writing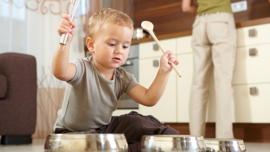 Bring the noise!
Get out the pots and pans (and ear plugs) and watch your baby discover cause and effect.
Creativity & Life Skills

Mathematics