Activity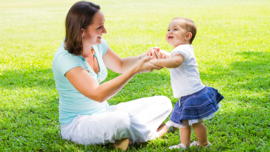 Five little ducks
Get counting and motor skills "quacking" with this popular finger play!
Language Learning

Baby steps
Give your toddler the power to do things for himself (even imperfectly) to build self-esteem and life skills.
Personal & Social Skills


Activity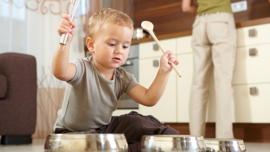 Bring the noise!
Get out the pots and pans (and ear plugs) and watch your baby discover cause and effect.
Creativity & Life Skills

Raise a good toddler citizen
Taking care of the local community is an important part of citizenship. It is never too early to volunteer with your child. Think about activities you can do together to help keep your neighborhood clean and safe. Toddlers can help plant flowers and collect donations for community projects.
Personal & Social Skills

Time for a change
How do you change a squirmy toddler's diaper? With plenty of fun (and educational) distractions.
Personal & Social Skills

How can I help my toddler overcome a fear of animals?
As toddlers become more aware of the world around them, they may develop fears. Understand that this is a perfectly normal response given your child's limited range of experiences and ability to express emotions. First, acknowledge your child's fears. Then, reassure your child that you will keep him or her safe ("Mommy will hold you un...
Personal & Social Skills

How can I promote empathy in my toddler?
Toddlers are developmentally incapable of truly predicting and understanding another person's response to a situation. This means that if a toddler finds something funny, such as dumping a bucket of water on Daddy, he is unable to understand why Daddy does not also find it funny. Children only begin to develop this ability around age 4...
Personal & Social Skills

Should I send my 2-year-old to preschool?
Whether or not to send a child to preschool at any age is a personal family decision. Many preschools with 2-year-old programs are similar to day cares with a few more formal educational activities. To determine if your child is ready for preschool, consider whether or not he or she can comfortably separate from you for several hours, ...
Personal & Social Skills

How can I get my kids to volunteer with me?
Becoming a parent often means rearranging priorities, but it does not mean having to completely lose your sense of self. You may not be able to enjoy all the activities you did before you had kids but it is important to preserve one or two things that give you a creative outlet and boost your own self-esteem. Volunteering is a wonderfu...
Personal & Social Skills

My toddler won't sit still! What can I do to encourage my jitter bug to take a break?
If your toddler won't sit still for stories, crafts or meals, first consider if this is really a problem. Toddlers are very busy at their primary job: learning about the world through exploration. Often, the problem is not that the toddler is too active but rather that our society expects young children to be calm and focused before th...
Personal & Social Skills