Happy Birthday, Baby!
You've come a long way ... and you're about to start a year that's brimming with new developments.
Reading & Writing

First dates
Kindle your toddler's social skills with age-appropriate play dates.
Personal & Social Skills

Personal & Social Skills

Personal & Social Skills


Discussion
Is it okay to keep my kid up late for special events?
In some cultures, children stay up much later than children in the United States. Routines are important for young children. At the same time, attending special family events makes for great childhood memories. Try to have your child get an extra nap in that day, make sure there is a quiet place for your child to safely rest if he or s...
Personal & Social Skills


Activity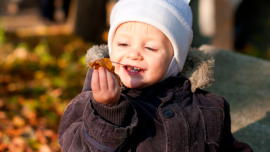 Touchy-feely
Introduce your toddler to textures and texture words with this nature activity.
Personal & Social Skills


Discussion
When should I start my baby on a naptime and bedtime routine?
One of the most difficult parts of parenthood is the lack of sleep! While babies are not likely to be receptive to any type of routine until they are at least 6-8 weeks of age, it is never too early to start a naptime and bedtime ritual. Doing so will calm your baby and help him understand that the bedroom is a place to sleep. Because ...
Personal & Social Skills

Tame tempter tantrums
No one's comfortable when a young child has a meltdown, but tantrums ARE normal. Be firm and stay calm. To help prevent future outbursts, give a "heads up" when it's time to leave the park, keep healthy snacks available and minimize errands when your child is tired. To redirect a brewing tantrum, play a game or ask questions.
Personal & Social Skills

Feelings matter
Take time to listen to your toddler's feelings. Help put labels to feelings ("You're smiling, you look happy!") and articulate what types of situations might be sources of uneasiness ("Did it make you sad when he didn't share his toy?"). Ask questions, and don't be afraid to share your feelings. Use these teachable moments to make link...
Personal & Social Skills


Article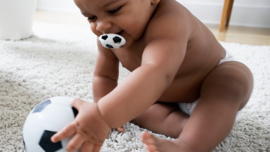 What is motor development?
What's the difference between fine and gross motor skills? Here's what you need to know.
Personal & Social Skills