Tip
Weigh away
At the grocery store, use the produce scale to create real-world problems for your child to solve.
Mathematics

What shapes does a child need to know for kindergarten?
In Kindergarten, children typically learn the names of basic shapes, including some 3-dimensional shapes. Before entering Kindergarten, you can encourage your child to recognize shapes such as squares, circles, triangles, and rectangles in everyday life. For example, you can tell your child that you see something in the room that looks...
Mathematics

My son knows basic shapes. What shapes should I teach him next?
If your child already easily recognizes squares, circles, triangles, and rectangles, he may be interested in learning about other 2-dimensional shapes and some basic 3-dimensional shapes. Your child may be excited to learn that a shape with 5 sides is called a "pentagon" and a 6-sided shape is called a "hexagon". In addition to flat, 2...
Mathematics

How can I help my child master skip counting?
Skip counting is a skill that can help children become more confident in mathematical problem solving and in daily tasks such as counting money. Children often begin by skip counting by tens: 0, 10, 20, 30, and so on. In many classrooms, children learn to skip count while looking at a 100 chart. A 100 chart shows the numbers 1 to 100 i...
Mathematics

My daughter has difficulty reading two-digit numbers. Any ideas?
In some languages (e.g., Chinese), spoken numbers correspond exactly to their written equivalent. English number names, however, are irregular making them more difficult to learn. You can help your daughter by first focusing on numbers 11-20. These numbers are unique in that they do not follow any sort of pattern. Make a game out of fi...
Mathematics

How can I help my son learn about calendars?
Research shows that children do not truly understand the concept of time until the first or second grade. Even though your son might be able to memorize the days of the week, he does not have a true understanding of what a day is. With this in mind, focus on introducing him to concepts such as before and after, and talk to him about wh...
Mathematics

My son is struggling with counting. How can I help him?
By the time most children are five years of age, they are able to count to 20. If your son is still struggling with counting, try making a game out of counting objects throughout the day – apples at a grocery store or the number of seconds it takes for the traffic light to turn green – and count out loud with your child. You can also h...
Mathematics


Activity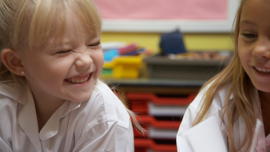 Memory upgrade
Play "what's missing" with your preschooler to improve her memory skills.
Logic & Problem Solving


Printable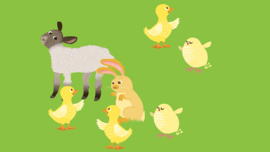 Easter surprise party
This printable activity encourages your child to practice counting and comparing sets of objects.
Mathematics


Printable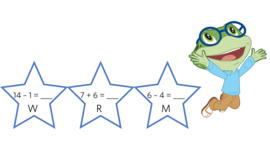 4th of July star scrambler
Print and play this star-spangled, word-scrambling math game.
Mathematics