Why won't my baby play with her grandparents?
Older infants are going through a stage of separation anxiety. They may cry when others try to hold them. This can be particularly hurtful to new grandparents who can't wait to shower affection on the new baby. First, try to rule out anything that might be upsetting the baby, such as strong scents or scratchy clothing or beards. Then, ...
Personal & Social Skills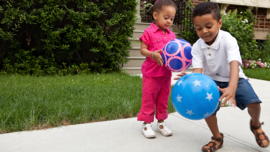 The importance of play
Playtime is essential to a child's development. Here are some of the many benefits.
Creativity & Life Skills

Floor time
Scatter your baby's learning toys on the floor and encourage her to reach, scoot and stretch.
Personal & Social Skills

Baby faves
Encourage self-expression by letting babies choose their own playthings.
Personal & Social Skills

From talk to trust
Describe your baby's emotions out loud, and then say what you will do to help.
Reading & Writing

Personal & Social Skills

Is it okay to keep my kid up late for special events?
In some cultures, children stay up much later than children in the United States. Routines are important for young children. At the same time, attending special family events makes for great childhood memories. Try to have your child get an extra nap in that day, make sure there is a quiet place for your child to safely rest if he or s...
Personal & Social Skills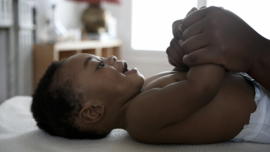 Bond with baby
Try these nine ideas to nurture your connection with your baby.
Creativity & Life Skills

When should I start my baby on a naptime and bedtime routine?
One of the most difficult parts of parenthood is the lack of sleep! While babies are not likely to be receptive to any type of routine until they are at least 6-8 weeks of age, it is never too early to start a naptime and bedtime ritual. Doing so will calm your baby and help him understand that the bedroom is a place to sleep. Because ...
Personal & Social Skills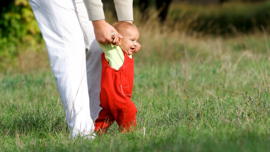 Infant learning, 9-12 months
Discover what's happening in your baby's beautiful little mind—all before his first birthday!
Creativity & Life Skills