Tips for traveling with baby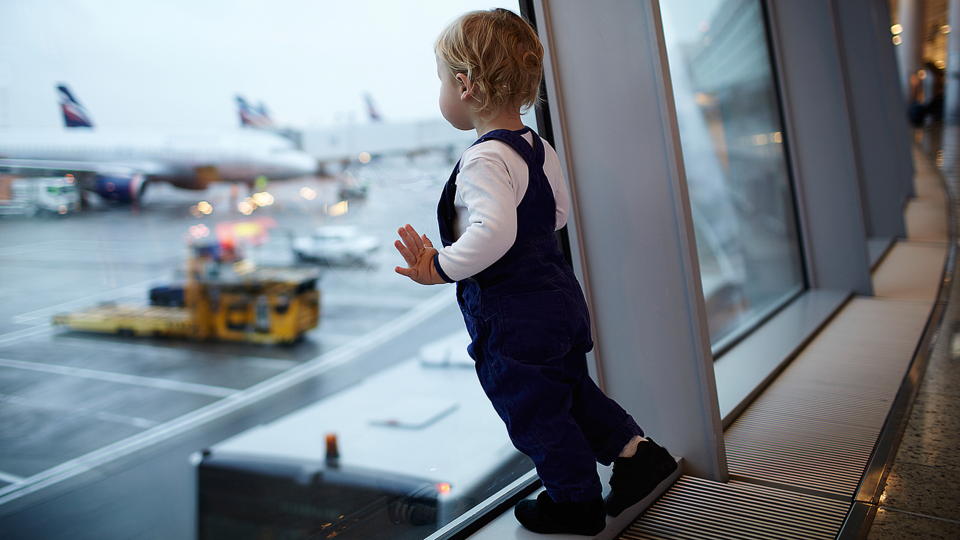 Foster a spirit of adventure—for your children and you. 
---
Whether you're contemplating a special getaway or a not-so-optional family visit, traveling with your baby can sound like a daunting task. Unfamiliar surroundings, anything-but predictable schedules, nowhere quiet or dark enough to nap… is it sounding restful yet?
One of the best-kept secrets of parenthood, though, is that younger babies are really portable. Toddlers are a bit more of a challenge with their tendency to contradict everything, but even they can be distracted by the excitement of a trip, at least most of the time.
After all, travel is a great way to step out of your usual routine and grow as a person (what doesn't kill you makes you stronger, right?). And with a bit of preparation and a positive attitude, you can create some special memories you'll treasure for a lifetime. Here are a few things to consider:
Your Destination:

There are always parents, like Candice Broom of Mom Most Traveled, who have taken young children to developing countries and never miss a chance to talk about it. While it is heartening to know it can be done successfully, if you are a traveling newbie, maybe start out simpler with a destination in the United States or Canada. You will be more confident knowing you speak the language, will be able to find your child's food, and can locate quality health facilities in case of an emergency.
Your Transportation - via Air:

Airplane travel and young toddlers can be a tough combo. They've just figured out they can walk (or run!) everywhere—why would they want to sit still? So how do you survive without being that parent—the one who gets the dirty looks? For toddlers, "treats" and distraction may be your best bet. Save some special books or toys to give them on the flight—you can even save one for each leg of the trip to keep their excitement (and focus) going. For younger babies, nursing or bottle-feeding provide an easy relaxation technique, and airlines allow you to carry bottles of breastmilk or formula (especially handy during take-off or landing, which is hard on little ears). Many young babies are content to snuggle into a sling or front baby carrier, for extra cuddle time with Mom or Dad.
Your Transportation - via Car:

Sixteen hours in a car with kids who are too hyped up to sleep…sounds like everyone's idea of a party, right? Try to plan frequent stops when your kids are at their most energetic, and do the long hauls when they are most likely to fall asleep. If you normally limit screen time or electronic toys, car trips might be the time to "break the rules." You can always go back to your routine later.
Stay Safe:

Even though many rental car companies offer car seats to rent, it's not a bad idea to bring your own along. You can rest assured that it fits your child properly, hasn't been in a collision and doesn't have grime (and worse) from anything you don't recognize. If you're traveling during the summer, don't forget to stay sun-safe: bring protective clothing, pack plenty of sunscreen and stay hydrated!
Pack Light:

Every family has a few essentials they can't live without. But you'll be surprised how little you need when you're traveling. Try following the cardinal rule—when in doubt, leave it out—because chasing a toddler with a ten-ton backpack on your back isn't really a vacation. If you're staying at a hotel, try calling ahead to see about the availability of a play yard. If you're staying with family or friends, see if anyone they know might lend you a porta-crib or stroller while you're in town. (Age-appropriate baby carriers are much easier to pack than strollers if you can't borrow one where you going).
Snacks Fix Everything:

There are few toddler problems that cannot be fixed by a well-timed snack. Stock up and you'll not only have a handy distraction, but a way to stave off complaints if flight or traffic delays throw off their meal schedule. Cheerios in an empty water bottle makes a great rattle when you're desperate enough!
Play Games:

Take time now to write up a list of age-appropriate games to pass the time when you are stuck in lines or in transit. I Spy, Twenty Questions and Looking for Alphabet Letters are a few favorites for older toddlers.
Perhaps the most important part of planning is to stay open to unplanned events. Your trip may not turn out exactly how you envisioned it, but with a good sense of adventure and a little flexibility, you can have fun and set the stage for many more adventures to come.