10 activities for farmer's market fun!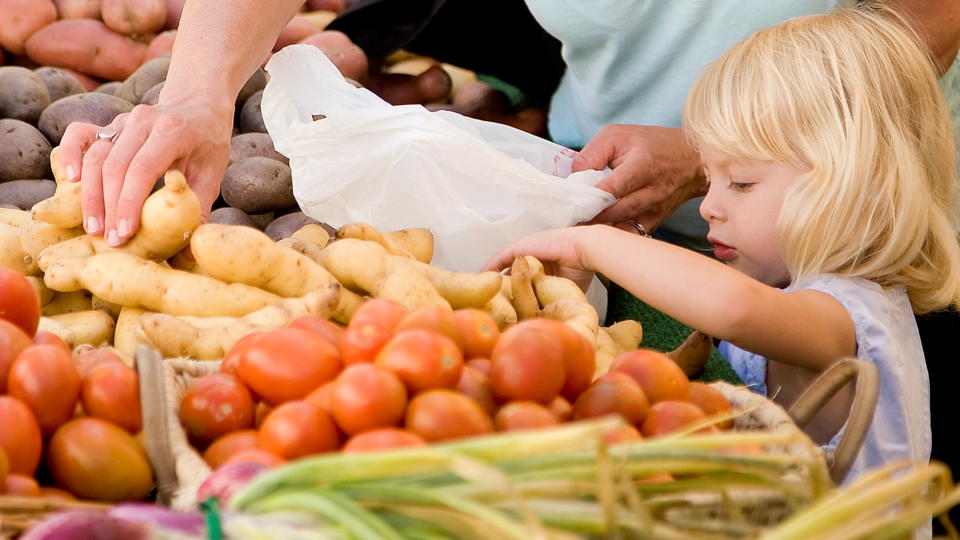 As if fresh-picked berries wasn't reason enough, here are 10 ways to love and learn from the farmer's market.
---
Learning Stages
---

We are lucky enough to have a farmer's market within walking distance of our house. Friday afternoons are a fun-filled time with family, friends, and neighbors. Aside from simply being a social time, there are many learning opportunities to be had at the farmer's market.
Visiting a farmer's market encourages a healthy lifestyle. Kids are surrounded by fruits and veggies, sold by local growers, who will often use more environmentally friendly methods of farming. Many children don't really know where all of that food in the grocery store comes from. Seeing the food in a farmer's market and talking to the farmers who grow it will help kids make connections between the food they eat and where it comes from.
Here are 10 of my favorite farmer's market learning activities for kids:
Make purchases based on what is in season and looks the best. Talk about how different crops grow best in different seasons.
Let your child be in charge of purchasing something small. They can even weigh their item and handle the money.
Make a list of questions to ask the farmers and spend time talking. We love talking to the bee keeper at the honey stand, the dairy farmer at the cheese booth, and of course the fruit and vegetable farmers.
Do a rainbow scavenger hunt. Find an item for each color of the rainbow. Point out that eating a variety of colors in a diet is a healthy lifestyle choice.
Little ones will want to spend time identifying colors, shapes, and counting items they are purchasing.
Try samples! Often times, farmers will set out samples for customers to try. Take advantage of this and try new things and talk about how they taste. (You might want to keep some hand sanitizer and wipes nearby.)
Encourage touching (if it's ok with the farmer) and smelling of produce. The farmer's market is a fabulous sensory experience.
Cook and prepare food using your purchases from the farmer's market. My kids love looking up new recipes online to be used with our farmer's market ingredients, and we often find new family favorites this way.
Participate in a contest. Recently, my daughter and I entered a jam making contest at a local farm. It was a fun way to be part of a larger community, try new recipes, and use our local produce.
Read books about the farmer's market! Here are a few favorites:
Farmers' Market Day by Shanda Trent
We're Going to the Farmers Market by Sara Anderson
A Day at the Market by Sara Anderson
Here's a bonus idea: Check out Readers to Eaters, a website about food literacy.