Plant a pizza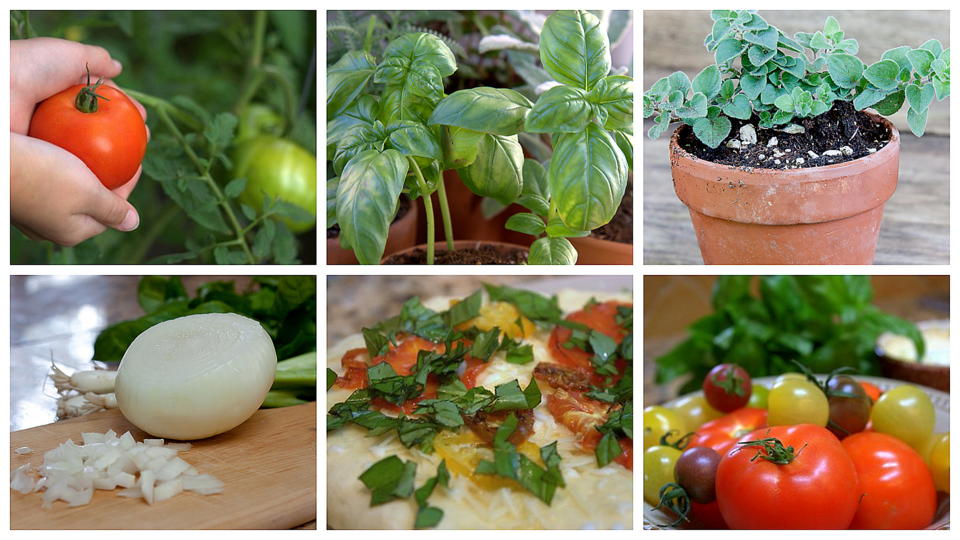 Grow a garden with all the ingredients for a perfect pizza party.
---
Learning Stages
---

There's just something about homemade pizza night that we love at our house. My kids love to make their own pizzas, choose their toppings, and then eat their creations. You can start with homemade pizza dough, pre-made pizza rounds, or even English muffins as your base. Of course, you can always set out traditional pizza toppings such as pepperoni, olives, or Canadian bacon, but wouldn't it be fun to grow your own pizza toppings?
It's really exciting for kids (and adults) to plant, nurture, and harvest fruits and veggies and then use them to make the food they eat for dinner. Somehow, dinner just seems to taste better when you grow it yourself! Even picky eaters will be proud to eat what they've grown themselves.
Here are a few of our favorite pizza toppings to grow:
Tomatoes
Because of our wet climate and lack of sunshine in the Pacific Northwest, we grow our tomatoes from starts, rather than from seed. We buy the largest tomato plants we can find and plant them in the ground. This year we planted Sweet 100, Early Girl, and Romas. Heirloom tomatoes are also really fun to grow because they come in many different colors. Growing your own pizza garden can be like eating a rainbow if you try different colors!
Basil
Tomatoes and basil go hand-in-hand in our garden. We cook with these two ingredients most of the summer. We plant some from starts that we buy at the garden center and some from seed, so we will have fresh basil all summer long. Basil is very easy for little chefs to add to their pizzas. Just take a leaf and tear it into the tiniest pieces possible. A tomato, basil, and mozzarella cheese pizza is a favorite in our house on a summer evening. It's simple enough for even my pickiest eater.
Oregano
Oregano has always been one of our easiest herbs to grow. It has a very thick and woody stem so is holds up well to kids and dogs playing in the yard. Fresh oregano is very strong, so kids will only need a few leaves chopped or torn up to give their pizza or pizza sauce a little flavor. Drying oregano and storing it for later is fun to try too! Dried oregano isn't quite a strong which is often good for little ones.
Peppers
I'll admit I've never been a huge fan of peppers, myself, but I cook with them because they are a great source of vitamin C and they really do add a sweet flavor to just about any dish. Peppers would be a great addition to a pizza garden too!
Onions
You won't need many onions growing in your garden, but adding a few will add flavor to your food. Sometimes kids are afraid to put the green stuff on their pizzas, but a tiny bit of onion might seem like an ok step for a less adventurous eater. I always remind my kids that they don't need to load up their pizzas with veggies the very first time we cook with our home grown produce. Trying a little bit is a great first step.