Ooze!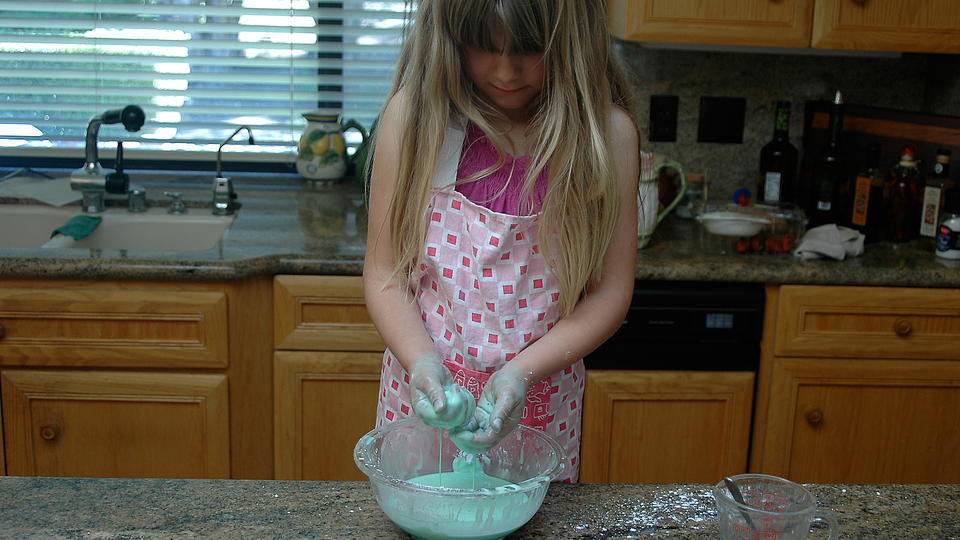 This icky-sticky creation gets kids hooked on chemistry.
---
You'll Need
Measuring cup
Cornstarch
Yellow food coloring
Blue food coloring
Large bowl
Spoon
Learning Stages
---

When salt or sugar mixes with water, it dissolves in the water to form solutions. Substances that do not dissolve in water form a mixture called a suspension. Follow the instructions below to create a suspension and investigate its properties:
Pour one cup of cornstarch into the bowl.
Measure out 2/3 cup of tap water. Turn the water green by adding three drops of yellow food coloring and three drops of blue food coloring.
Slowly pour the green water in the bowl. (You might not need all the water.) Mix well with the spoon and your hands.
Take a handful of the green substance and roll it into a ball.
Stop rolling and let the ball rest on your palm.

Cornstarch and water, like quicksand or ketchup, is a type of mixture called a suspension—it never really mixes together. Rolling the mixture in your hands, it compresses together and feels dry. Once you stop rolling, the cornstarch starts pulling away, leaving ooze in your hands.