eWaste (WEEE disposal)
Electrical waste is the fastest growing waste stream in the UK. Over 75% of electrical goods end up in UK landfills, which can have a significant impact on the environment; many of these items could otherwise be repaired or recycled. As a responsible distributor of electrical and electronic equipment, LeapFrog Toys is committed to ensuring correct disposal of the electrical goods we supply. The crossed out wheeled bin symbol indicates that the product should not be disposed of in a normal waste stream. Instead, you can take your end-of-life items to your nearest collection facility which can be found by clicking here.

Battery disposal/recycling
At present, only 10% of all household batteries are correctly recycled in the UK. The majority end up in landfill, where they can leak harmful chemicals into the soil. As a responsible distributor, Leap Frog is committed to ensuring the correct disposal of batteries and reducing the environmental damage they can cause. Consumers can visit www.recycle-more.co.uk to locate their nearest collection facility.

LeapFrog Toys offers a mail-back program for products with inaccessible batteries (i.e. built-in Lithium Polymer batteries), email consumer_services@vtech.com with the subject title "battery disposal" to obtain a free shipping label. Upon receipt of the shipping label, simply pack your product, affix the label to the package and ship it.

The crossed out Wheeled Bin symbol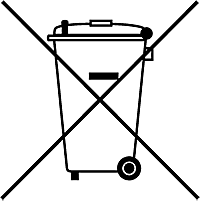 Electrical and Electronic Equipment that was made after 13th August 2005 has this symbol on the packaging or product. Use the recycle-more locator to find your nearest electrical recycling facilities.