Interactive Learning Toys for Growing Minds
Get kids excited about learning to read and more with LeapFrog®! Each interactive learning system includes a stylus that reads invisible dots on compatible books and activity sets, triggering questions, challenges, songs, jokes and more.
Bring learning to life with LeapStart® interactive learning systems! Build core school skills with replayable activities, each designed with multiple levels for children to learn at their own pace.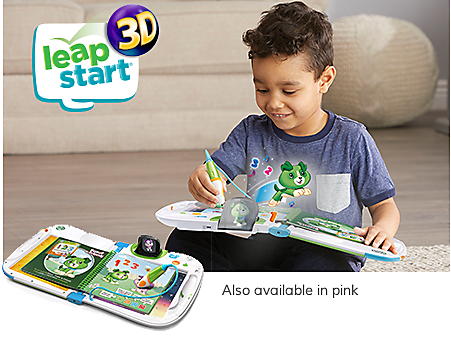 LeapStart® 3D
Touch the stylus to words and pictures on each page of LeapStart® books for fun audio responses and on-screen animations that practice learning the basics of reading, maths, science and more.
The LeapStart® 3D system is compatible with all LeapStart® books and features on-screen animations (books sold separately).

LeapStart® Library
Explore the LeapStart® library for 750+ replayable activities that help teach over 50 core skills at every learning level.
A computer with an internet connection is required to download content to the LeapFrog® learning system.


All LeapStart® books are compatible with all LeapStart® systems.
Animations triggered by LeapStart® books are compatible with any LeapStart® system with a screen.