Reading & Writing

Can you recommend some holiday books for my toddler?
There are many fun books to get your child excited about the holiday! "The Night Before Christmas" by Rachel Isadora adds a modern twist to a classic favorite, and is beautifully illustrated using paper collage and oil paints. "Dream Snow" by Eric Carle is a wintery tale that really captures the snowy magic of the holidays. "Duck & Goo...
Reading & Writing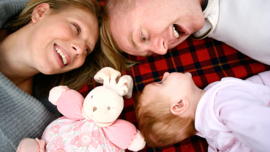 The sounds of language
Becoming a lifelong reader involves far more than knowing the ABCs. It begins with children becoming sensitized to the sounds of language. The more sounds a child hears, the more words, with all their sounds, he'll learn to say and eventually read.
Reading & Writing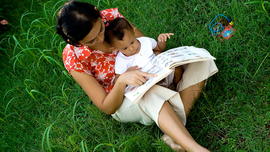 Best books for babies and toddlers
Our learning experts explain how to choose the best books for reading to babies and toddlers.
Reading & Writing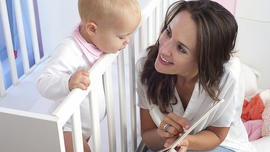 What to read to babies
Now that we've discussed why we read to babies from day one, let's look at what to read to your baby.
Reading & Writing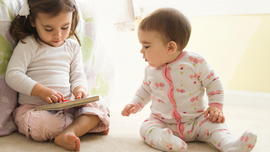 Booklist for babies and toddlers
A good book is a gift that keeps on giving. When buying books for babies or toddlers, here are a few tips from reading teacher and toddler expert Melissa Catalano.
Reading & Writing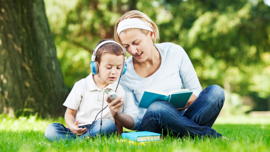 Expanding reading horizons
Beyond printed books, there is a world of literacy adventure to explore with your child. These guidelines will help chart a course to expanded reading possibilities.
Reading & Writing

My 13-month-old can say dada, hi and bye bye. How can I teach him to say more words?
Just after their first birthday, most children have a vocabulary of 3-4 words, but it is important to remember that every child is different. Research shows that one of the best ways to help children learn new words is to narrate your daily activities. Describe what you are doing as you go about your chores and activities. Point to and...
Reading & Writing


Activity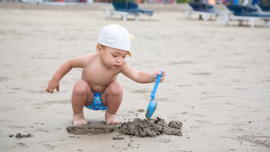 Letters in the sand
Turn the beach or sandbox into your child's first white-board.
Reading & Writing


Activity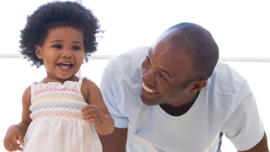 If you're happy and you know it
This is a great song to help your child develop physical skills and follow directions.
Personal & Social Skills