Personal & Social Skills

Revving fine motor skills
Kids' ability to grasp objects develops gradually from grabbing with the whole hand to holding a pencil between fingers.
Reading & Writing

Personal & Social Skills

Emotional roller coaster?
During the toddler years, children begin to figure out how things work. They want to be independent, yet they struggle with their own abilities. It's normal for toddlers to have emotional highs and lows.
Personal & Social Skills

Do motor skills develop naturally? How can I help my child?
Children's physical and motor skills tend to develop a rather predictable sequence. As a children's bodies grow, they will also acquire the skills needed to coordinate and maneuver those body parts. Of course, these skill do not appear out of nowhere or develop in a vacuum.
Personal & Social Skills

My toddler screams all the time. How can I make him stop?
At this age, children are starting to do so many things on their own, such as walking and eating. However, their verbal skills are still forming. An inability to express certain needs and emotions may be the basic cause for the screaming. At times it's easy to know what the source of the crying is, such as hunger or a wet diaper. Other...
Personal & Social Skills

How can I wean my toddler off the pacifier without getting a full blown tantrum?
Though we cannot promise tantrum-free results, here are some tips to smoothing the pacifier weaning process. You may want to give your child some warning that "in a few days, we will say bye-bye to your binky." Continue to remind your child that this will happen, with matter-of-fact language, until the day it goes away. This will prepa...
Personal & Social Skills

How can I get my toddler to put on her coat when she refuses?
Getting organized and out the door with young children is a challenge in itself, add a toddler who refuses to put on a coat and it's enough to make you want to stay inside! While it is important to give your toddler the opportunity to make her own choices, you need to make sure that she is adequately dressed for the weather. One way to...
Personal & Social Skills

My son is grinding his teeth. How do I get him to stop?
Two to three of every 10 kids grind their teeth. However, most will outgrow this habit by the age of six, or by the time all the permanent teeth have come in. The reasons for teeth grinding, or bruxism, are unconfirmed. Some children may develop the habit as a reaction to growing pains or times of stress. Help your child settle into a ...
Personal & Social Skills


Printable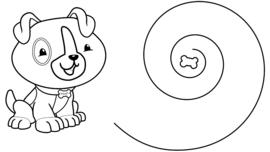 Help Scout find his bone
This printable spiral maze provides a fun opportunity to practice pencil or crayon control.
Personal & Social Skills


Article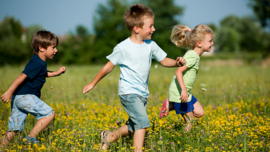 Play date protocol
Is your well-meant meddling taking the fun out of your kids' play dates?
Personal & Social Skills