Mathematics

Take stock
Ask your child to take inventory of the pantry and help create a shopping list to help him learn how to sort and classify.
Mathematics

Mathematics

Count your snacks
Use snack time as an opportunity for your child to practice early math skills.
Mathematics

Six-pack recycle
Help your child understand that a numeral can represent a number of objects.
Mathematics

Mathematics

Size it up
So many things come in different sizes, making it easy to practice ordering skills.
Mathematics


Discussion
What should I do beyond counting to prepare my daughter for math?
Play is a great way to introduce your child to a wide variety of mathematical concepts. For example, engaging in pretend play helps children practice many important pre-math skills such as symbolic thinking and problem solving. Playing with blocks is another fun way to teach your child about basic math concepts such as size and shape. ...
Mathematics


Activity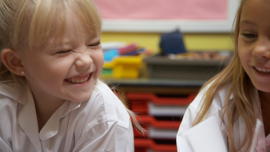 Memory upgrade
Play "what's missing" with your preschooler to improve her memory skills.
Logic & Problem Solving