Printable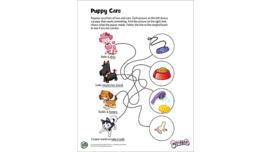 Puppy care
Caring for pets—in real life and in play scenarios—helps children develop qualities of responsibility and empathy. Developing these important social skills will help your child thrive in school and in life.
Personal & Social Skills


Printable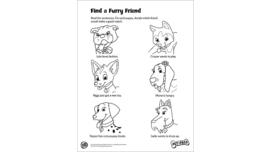 Find a furry friend
This printable activity encourages your child to think about the needs of others, an important part of developing socially and emotionally.
Personal & Social Skills

A fresh look at vegetables
Instead of saving dessert for last, tell your child that he can only eat his vegetables once he eats his dinner.
Personal & Social Skills

Time travel
When you are planning an outing with your child, encourage your child to talk about it before, during and after.
Personal & Social Skills

Making friends
Help your child understand social skills by talking about feelings together.
Personal & Social Skills

Appoint a chef
Making simple meals and snacks for themselves gives children a feeling of accomplishment.
Personal & Social Skills

What's a friend?
Help your child think about what friendship is and why we choose the friends we have.
Personal & Social Skills

Fitness fun
Healthy fitness habits start early. Try these tips to get a move on great health.
Personal & Social Skills

Personal & Social Skills

My preschooler won't tell me about her day. How do I encourage her to open up?
It isn't uncommon that a child responds with such a question with not much more than, "Fine!" or "Not much!" While it might be tough to get a conversation started, a few simple things might encourage them to tell you more about their day at school. It is important to ask the right question at the right time. At preschool, it is common ...
Personal & Social Skills

How can I encourage my child to speak in front of his class?
The key is to provide your child with plenty of opportunities to communicate in a variety of contexts. Start with relatively "low-pressure" experiences like ordering food at a restaurant or asking for help locating a specific item in a store. Gradually, introduce more performance-based opportunities like reading aloud to a family membe...
Personal & Social Skills

How can I change the focus of the holidays away from just gifts?
One way to take the focus off of gifts during the holiday season is to reach out to others in need. You can do this by taking your child to visit a nursing home, or by providing meals for families who might otherwise not be able to afford them. Have your child go shopping with you and choose a toy to donate. Take this opportunity to ta...
Personal & Social Skills