A word a day
Introduce the names of familiar objects as you spend time with your baby.
Reading & Writing

Reading & Writing

Happy Birthday, Baby!
You've come a long way ... and you're about to start a year that's brimming with new developments.
Reading & Writing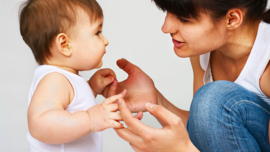 Where do babies get their words?
Our literacy expert answers where, how and when babies gain language skills.
Reading & Writing

It's rhyme time
Reading or reciting nursery rhymes introduces babies to the rhythm of language. Long before your baby can utter a word, much less rhyme words, he can listen to rhymes and start to internalize the patterns in language. And babies love predictable language, which explains why you'll tire of a rhyme long before he does!
Reading & Writing

Reading & Writing

Make room for reading
Incorporate reading into your daily pattern so your toddler learns that reading is part of his world.
Reading & Writing


Video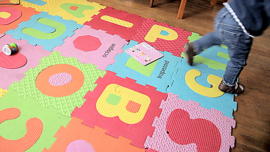 Reading to toddlers
How do you read to a squirmy toddler? LeapFrog Literacy Expert Dr. Carolyn James has help for parents of toddlers who won't sit still!
Reading & Writing


Activity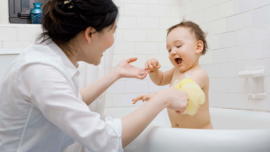 Itsy bitsy spider
Finger plays like Itsy Bitsy Spider introduce new vocabulary and help little ones coordinate words with finger motions.
Reading & Writing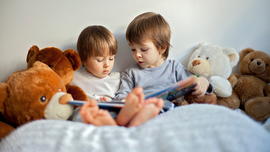 The road to reading
Think kids learn to read in kindergarten? Think again. Reading skills begin the moment you start talking to your baby, and continue for life.
Reading & Writing


Activity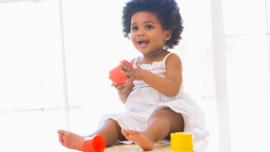 Over and under
With a block and a small container, your baby can learn position words.
Reading & Writing

Reading & Writing