Tell me more
Challenge your child's communication skills by asking lots of questions.
Reading & Writing

Words to remember
Increase your child's exposure to new words by talking aloud as you go through your shopping list.
Reading & Writing

I hear you
Your child can show that she understands many words even though she can't say them.
Reading & Writing

Conversations count
Your baby may have been using only a handful of words before, but now she's bursting with new vocabulary. Learn how to keep those new words coming.
Reading & Writing

Talk it up!
The research is in. When you have conversations with your child, quality and quantity both matter.
Reading & Writing

Reading & Writing


Discussion
When should my baby say her first word?
Some babies may utter their first words as early as 9 months of age. It's important to note, however, that learning experts differ in how they assess whether a first word has been spoken. For example, some experts suggest that the first utterance of any word that sounds like a word used by adults, such as "dada" or "mama," counts as a ...
Reading & Writing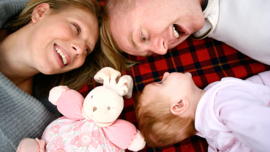 The sounds of language
Becoming a lifelong reader involves far more than knowing the ABCs. It begins with children becoming sensitized to the sounds of language. The more sounds a child hears, the more words, with all their sounds, he'll learn to say and eventually read.
Reading & Writing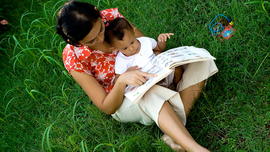 Best books for babies and toddlers
Our learning experts explain how to choose the best books for reading to babies and toddlers.
Reading & Writing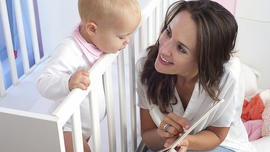 What to read to babies
Now that we've discussed why we read to babies from day one, let's look at what to read to your baby.
Reading & Writing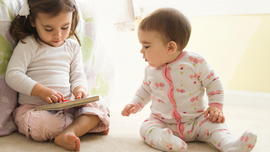 Booklist for babies and toddlers
A good book is a gift that keeps on giving. When buying books for babies or toddlers, here are a few tips from reading teacher and toddler expert Melissa Catalano.
Reading & Writing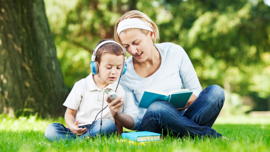 Expanding reading horizons
Beyond printed books, there is a world of literacy adventure to explore with your child. These guidelines will help chart a course to expanded reading possibilities.
Reading & Writing