Stack up the math
Nesting and stacking toys are a great way to build early math skills, while developing hand-eye coordination.
Personal & Social Skills

Time for a change
How do you change a squirmy toddler's diaper? With plenty of fun (and educational) distractions.
Personal & Social Skills


Discussion
When should I bring my toddler to the dentist?
The American Academy of Pediatric Dentistry advises parents to bring their child to the dentist for a first visit when the child's first tooth arrives or by age 1, whichever comes first. If your toddler has not yet visited the dentist, find a pediatric dentist with experience with young patients. To ensure a positive experience, role p...
Personal & Social Skills


Discussion
Why won't my baby play with her grandparents?
Older infants are going through a stage of separation anxiety. They may cry when others try to hold them. This can be particularly hurtful to new grandparents who can't wait to shower affection on the new baby. First, try to rule out anything that might be upsetting the baby, such as strong scents or scratchy clothing or beards. Then, ...
Personal & Social Skills


Article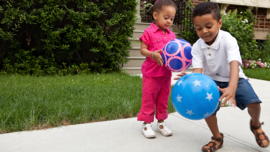 The importance of play
Playtime is essential to a child's development. Here are some of the many benefits.
Creativity & Life Skills

From talk to trust
Describe your baby's emotions out loud, and then say what you will do to help.
Reading & Writing

Personal & Social Skills

Up all night
If your baby likes the nightlife, it might be time to turn the soothing over to him.
Personal & Social Skills

Personal & Social Skills