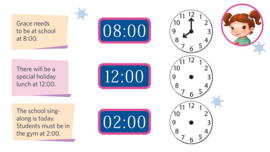 Time for holiday fun
Schedule some holiday fun with this time-telling printable activity.
Mathematics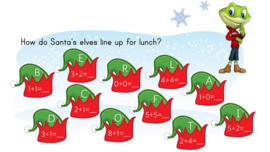 North Pole puzzler
This puzzle will get your child practicing addition facts and letter printing.
Mathematics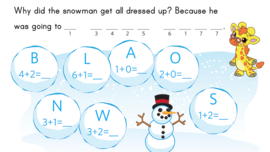 Ms. Giraffe's math puzzle
This winter-themed printable will have your child practicing addition, letter printing and reading.
Mathematics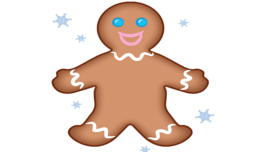 Buttons on a gingerbread man
Here's a fun seasonal game to help young mathematicians to understand addition as putting numbers together and subtraction as taking numbers apart.
Mathematics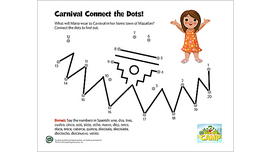 Carnival connect the dots
Learn Spanish numbers up to 20 and find out what Maria will wear to Carnival.
Mathematics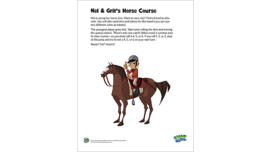 Nel & Grit's horse course
Games like this printable board game provide a great opportunity for your child to practice and develop counting skills—a crucial stepping stone on the path to success in math!
Mathematics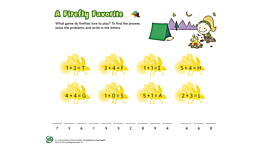 A Firefly Favorite
What game do fireflies love to play? To find the answer, solve the problems and write in the letters.
Reading & Writing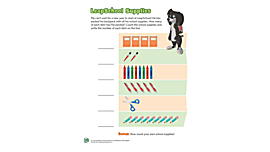 LeapSchool Supplies
Pip can't wait for a new year to start at LeapSchool! He has packed his backpack with all his school supplies. How many of each item has Pip packed? Count the school supplies and write the number of each item on the line. Bonus: Now count your own school supplies!
Mathematics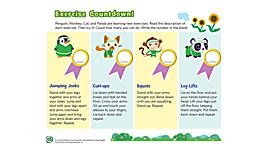 Exercise Countdown!
Penguin, Monkey, Cat, and Panda are learning new exercises. Read the description of each exercise. Then try it! Count how many you can do. Write the number in the blank.
Mathematics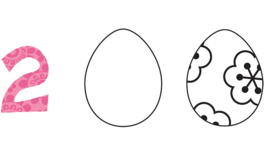 Count and color Easter eggs
Get a hop on early math with this fun Easter coloring page.
Mathematics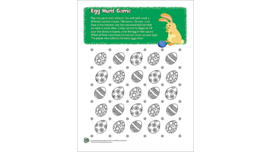 Egg hunt game
Connect the dots to play this fun game with your child and encourage logical thinking skills.
Mathematics