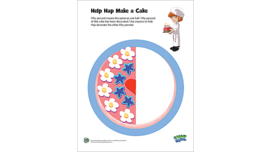 Help Hap make a cake
This printable activity introduces the idea that fifty percent is the same as one half.
Mathematics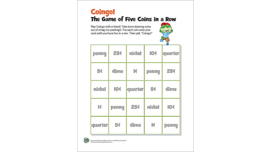 Coingo! The game of 5 coins in a row
Children can learn to differentiate between coins by playing this fun variation on Bingo.
Mathematics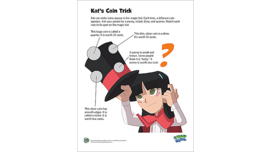 Kat's coin trick
This activity can help children learn to identify coins and understand that they have different values.
Mathematics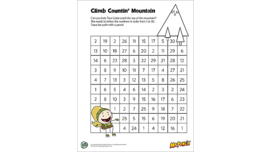 Climb countin' mountain
In addition to counting out loud, your child should be able to recognize larger numbers and put them in order. This is a fun way to practice sequencing numbers.
Mathematics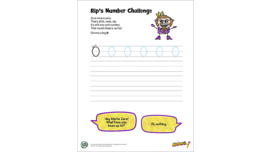 Rip's number challenge
Enjoy Rip's number jokes as you practice writing numbers.
Mathematics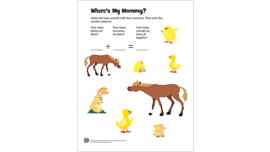 Where's my mommy?
Matching baby animals to their mothers in this printable requires your child to use logic and reasoning skills that will also uncover one of the secrets of math.
Mathematics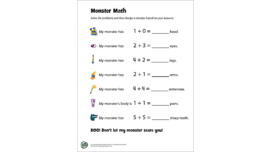 Monster math
Solve these math problems, then build a monster based on the answers!
Mathematics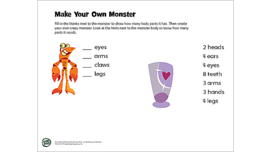 Draw your own monster
Practice preschool counting skills as you create a crazy monster.
Mathematics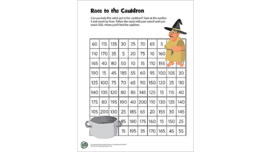 Race to the cauldron
Help the witch reach her cauldron with skip-counting skills.
Mathematics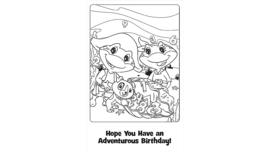 Numbers ahoy! Birthday card
Fans of Tad, Lily & Scout will enjoy coloring this cute birthday card.
Mathematics