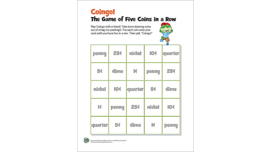 Coingo! The game of 5 coins in a row
Children can learn to differentiate between coins by playing this fun variation on Bingo.
Mathematics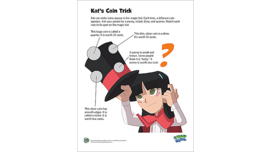 Kat's coin trick
This activity can help children learn to identify coins and understand that they have different values.
Mathematics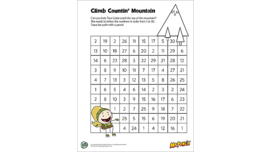 Climb countin' mountain
In addition to counting out loud, your child should be able to recognize larger numbers and put them in order. This is a fun way to practice sequencing numbers.
Mathematics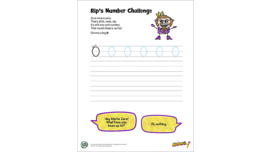 Rip's number challenge
Enjoy Rip's number jokes as you practice writing numbers.
Mathematics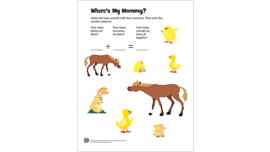 Where's my mommy?
Matching baby animals to their mothers in this printable requires your child to use logic and reasoning skills that will also uncover one of the secrets of math.
Mathematics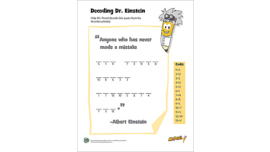 Decoding Dr. Einstein
Solve the puzzle for a famous learning quote from Albert Einstein in this printable activity.
Science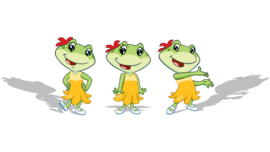 Lily's shadow
Teach your child about time and directions this Groundhog Day by looking at your shadows.
Science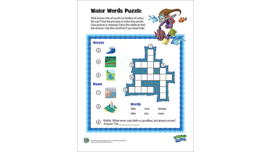 Water words puzzle
This printable activity encourages your child to think about and identify various natural sources of water, an early Earth Science skill. Read the water words aloud to your pre-reader and see if he can tell you which word goes where.
Science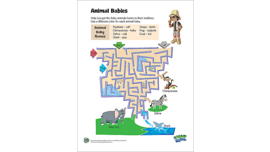 Animal baby names maze
This maze presents a fun way for kids to learn the baby names of elephants, sharks, chimps and more.
Science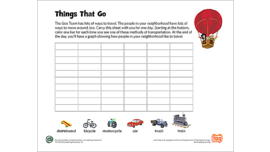 Things that go
Kids chart modes of transportation on this printable. Learning about transportation is part of early social studies education, helping kids think about the phyisical and human environment.
Social Studies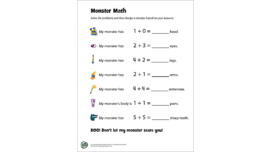 Monster math
Solve these math problems, then build a monster based on the answers!
Mathematics