Printable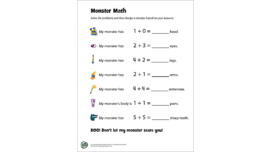 Monster math
Solve these math problems, then build a monster based on the answers!
Mathematics


Printable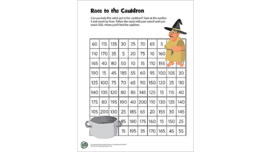 Race to the cauldron
Help the witch reach her cauldron with skip-counting skills.
Mathematics

Follow the money
Encourage budgeting by helping your child see where his money goes.
Mathematics

Weigh away
At the grocery store, use the produce scale to create real-world problems for your child to solve.
Mathematics

Measuring mileage
Rev up your child's real-world math skills with this simple activity.
Mathematics

Kids matching funds
Your child may not be ready for a 401k, but this matching funds exercise can help her realize the value of saving for the future.
Mathematics

Coupon clipper
Give your child the chance to use her math skills and help you save money at the same time.
Mathematics

Mathematics

Figure it out!
You use math every day. Next time you need to estimate the tax or decide what time to leave to reach your destination on time, ask your child to figure it out.
Mathematics


Discussion
I've never considered myself good at math. How can I help my child stay confident?
It is wonderful that you want to help your child have a more positive experience with mathematics than you had. To do this, it's important to avoid telling your child that you were not "good at math" because your child may begin to believe that mathematics success is related to an innate talent, rather than practice and perseverance. W...
Mathematics