Reading & Writing

Reading & Writing


Video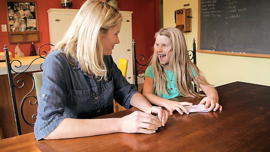 Reading games
This video is filled with fun tips to make learning sight words fun!
Reading & Writing


Video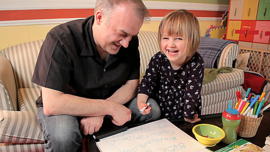 Spelling spelled out
Help your child develop good spelling skills with these expert strategies.
Reading & Writing

Is proper stroke order important when kids print letters?
When children are learning handwriting, it's important to aim for "automaticity." Automaticity refers to the ability to do something correctly from memory, with relatively little effort. As children learn the strokes to form letters in the same way, each time they write, they can achieve greater automaticity with handwriting. This incr...
Reading & Writing

My child still holds his pencil incorrectly. Should I worry?
Holding a pencil correctly can help avoid fatigue and cramping that can make writing difficult. Have your child rest the forearm in a neutral position on a flat writing surface. The hand should rest on the little finger allowing the wrist to move freely. The thumb needs to be in a position where it can provide resistance to the fingers...
Reading & Writing

My son asks me to read to him even though he can read. Should I?
Studies show that reading aloud to your child is the most important thing you can do to help build skills for future reading success. As children listen to books read aloud at any age, they can gain access to text that is more challenging than they could tackle on their own. This exposure helps young readers build oral vocabulary, prac...
Reading & Writing

The reading homework is not challenging for my child. Advice?
It sounds like your child is ready to engage in more independent reading to maintain a good level of challenge. Not surprisingly, research shows that the more children read the better readers they become, with a broader vocabulary and deeper knowledge about people and the world. Studies indicate that, on average, children who read more...
Reading & Writing

My child makes many grammatical mistakes. What can I do?
One way to help children fix grammatical mistakes is to model the proper way to say what they have just said. For example, if your child says "I goed to school yesterday," you can respond by saying "I went to school yesterday". You can do this by simply repeating what your child has just said using the correct grammar and pronunciation...
Reading & Writing

My daughter struggles with writing. Is it OK to write her Valentines?
To get your daughter excited about writing her Valentines, let her choose cards that she really likes. You can also let her pick out fun stickers to put on the cards and a special pen to sign them with. Because your daughter struggles with writing, you want to start with something you know she will be successful at, so begin by having ...
Reading & Writing

What are some other ways to encourage reading beyond books for young grade schoolers?
While reading to children is one of the best ways to encourage an interest in reading, there are many fun ways to encourage reading beyond books. One of my favorite ways is through storytelling. Eeboo's "Write Me a Story" helps children create their own stories by providing them with beautifully illustrated stickers that can be placed ...
Reading & Writing