My daughter seems more exhausted than joyful. What's going on?
Holidays can be a time of joy, fun and excitement, but they can also be full of unexpected changes in routine and overstimulation. This can be particularly difficult for young children, because they thrive on structure and predictability. You are also more likely to be busy preparing for the holidays and hosting guests, which may cause...
Personal & Social Skills

How can I teach my son to be a gracious loser?
No one likes to lose, but it is important for young children to learn how to accept loss without feeling bitter or bad about themselves. Begin by acknowledging your son's feelings and let him know that it is okay to feel disappointed, sad, or angry when he loses. Explain that while it is okay to have these feelings, it is not okay to g...
Personal & Social Skills

Should I tell my daughter the truth if she ask me about Santa?
Whether you decide to tell your daughter the truth about Santa Claus is a personal choice, and will differ for parents depending on their own beliefs and values. It might be helpful to ask yourself why you think you should tell your child the truth about Santa Claus. Are you worried that if you continue to perpetuate your child's belie...
Personal & Social Skills

How can I help my daughter be polite about gifts she doesnt like?
Teach your daughter the importance of saying "thank you" when she receives a gift, regardless of whether she likes it. Don't ask her to lie and pretend that she likes the gift, instead keep the focus on teaching her the importance of being polite and thanking others. She will also learn by watching how you interact with others, so make...
Personal & Social Skills

Should my son keep practicing school skills over winter break?
The holidays should be a fun, relaxing time where the focus is on spending time together as a family. That said, there is no reason why your child can't keep practicing school skills over the break -- the secret is to keep it fun! For example, your son can practice his writing skills by helping you address your holiday cards, make shop...
Personal & Social Skills

My daughter is bouncing off the walls. Any ideas for winter exercise?
When it's cold outside, it can be difficult to find ways to chill indoors with your children! The key is to find safe and creative ways to be active inside. Two of my favorite things to do with my own children are building a fort and creating an inside obstacle course using pillows, blankets, and toys. Another fun idea is to turn on so...
Personal & Social Skills

How can I help my daughter from comparing her skills to others?
It's natural for children to compare themselves to other children, so it is important to teach them that everyone is different and that there are many wonderful ways to be special. In fact, giving children the confidence to be themselves is one of the greatest gifts a parent can give to their child. You can do this by teaching children...
Personal & Social Skills

Personal & Social Skills

How can I help my 6-year-old daughter understand the importance of being yourself?
Giving your daughter the confidence to be herself is one of the greatest gifts you can give her. It is important for her to understand that she shouldn't be ashamed of her intelligence or pretend to be someone she is not. Being smart is something to be proud of, not hide. You can help your daughter by making sure she has strong female ...
Personal & Social Skills

How can I make Easter a healthier holiday?
One way to make Easter healthier is to skip the chocolate and fill up your child's Easter basket with some non-sugary treats. Books make great gifts at any time of the year, including Easter. Three of my favorite Easter themed books are "Marshmallow" by Clare Turlay Newberry, "The Easter Egg" by Jan Brett, and "The Story of the Easter ...
Personal & Social Skills

Personal & Social Skills


Printable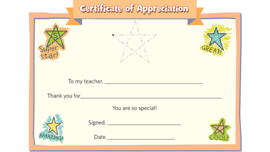 Teacher certificate of appreciation
Your child can practice printing and tracing while also taking a moment to be grateful for all the special things teachers do.
Personal & Social Skills