Article
Be a math role model
You are your toddler's number-one math teacher. Try these tips to jumpstart her learning.
Mathematics


Printable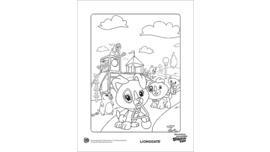 Adventures in Shapeville Park coloring page
In their new DVD, Adventures in Shapeville Park, Scout and Violet build a playground from shapes to see what a circle, square and triangle can really do!
Mathematics

What size?
Reinforce the names of colors, shapes, and the concept of size using everyday opportunities.
Mathematics

How many fingers?
Provide simple reminders that math is part of your toddler's world.
Mathematics

Countdown to counting
Research has shown that infants are born with an ability to tell the difference between two and three objects. By their second birthday, most toddlers are ready to explore the world of numbers.
Mathematics

Supermarket sort
Supermarkets can be educational places, full of learning games to play with your child.
Logic & Problem Solving

Mathematics