Does learning sign language cause speech delays?
Baby signing is a wonderful way to communicate with pre-verbal babies and reduce toddler frustration (aka, tantrums). Experts also tout the intellectual, cultural and social benefits of introducing a second language early on. Still, some parents and well-meaning relatives worry that children will have speech delays or become confused i...
Reading & Writing

How can I get my baby interested in books?
The easiest way to get babies excited about books is to make reading a consistent and fun part of your day. Some parents find reading is a relaxing activity that helps babies wind down at nap time and bedtime. Whenever you read, cuddle your baby close and let your baby explore the book (sturdy board books are better for babies who want...
Reading & Writing

Is babytalk bad for my baby?
Experts distinguish between "parentese" (high-pitched, stretching out the sounds in words) and "babytalk" (meaningless babble sounds). Childhood language specialists suggest that while goochie-goo style babytalk is unecessary, parentese plays an important role in infant development. Parentese is a universal practice across languages an...
Reading & Writing

From talk to trust
Describe your baby's emotions out loud, and then say what you will do to help.
Reading & Writing

Picture perfect
When it comes to picture books, there is no such thing as too young.
Reading & Writing

A word a day
Introduce the names of familiar objects as you spend time with your baby.
Reading & Writing

Mama, dada
Lucky for you, babies often repeat syllables in their early attempts at talking.
Reading & Writing

Your competent newborn
Babies are born knowing more than you think. Discover the amazing things your baby can do.
Reading & Writing


Article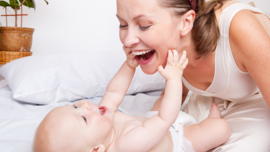 Play it again!
Even though it will be years before you can break out the board games, it's not too early to begin family game night with classic games like these.
Creativity & Life Skills

Reading adds up
Start reading to your child from day one and you'll accumulate hundreds of hours of literacy experience by kindergarten!
Reading & Writing

Read it again
Discover why reading the same old story is well worth your time.
Reading & Writing


Activity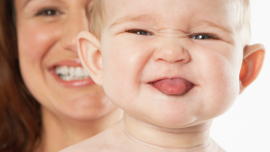 Oh, what a feeling!
Make faces in the mirror with your baby and name the emotion you're showing.
Personal & Social Skills