Revving fine motor skills
Kids' ability to grasp objects develops gradually from grabbing with the whole hand to holding a pencil between fingers.
Reading & Writing

What if my baby isn't walking yet?
As with every developmental milestone, babies walk in their own time. About 50% of babies walk by one year but that still leaves another half of babies that will learn between 12 and 16 months. Babies who are more interested in fine motor or verbal development may walk later than their more physical peers. The use of bouncers and walke...
Personal & Social Skills


Article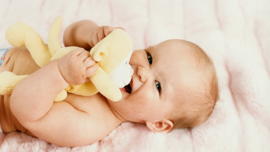 7 toys every baby should have
Steer well-meaning gift-givers toward the best toys for baby.
Personal & Social Skills


Article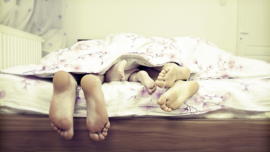 Are we taking parenting too seriously?
Do modern Americans miss out on the joys of parenthood?
Personal & Social Skills

Help him explore
Babies learn through sight and touch. Help him explore by keeping the world within his grasp.
Personal & Social Skills


Activity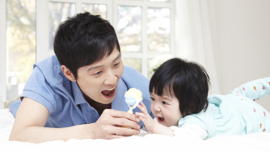 Creative noisemakers
Bring the noise and strengthen your baby's listening skills.
Creativity & Life Skills

My son is grinding his teeth. How do I get him to stop?
Two to three of every 10 kids grind their teeth. However, most will outgrow this habit by the age of six, or by the time all the permanent teeth have come in. The reasons for teeth grinding, or bruxism, are unconfirmed. Some children may develop the habit as a reaction to growing pains or times of stress. Help your child settle into a ...
Personal & Social Skills


Activity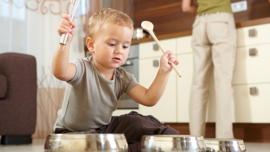 Bring the noise!
Get out the pots and pans (and ear plugs) and watch your baby discover cause and effect.
Creativity & Life Skills

Mathematics

Should I throw a big party for my baby's first birthday?
How to celebrate a baby's first birthday is a family decision. First birthdays range from small family observances to large parties with ponies and "smash cakes." Your baby is unlikely to have any real "friends" at this age, will not have memories of the celebration and will not even realize if you skip the big party. However, your chi...
Personal & Social Skills

When should I expect my baby to start crawling?
Most babies learn to crawl between 7 and 10 months. Some babies prefer to scoot or roll and some never master crawling and skip right to walking. Some experts believe the bilateral integration of crawling is important to developing strength, motor skills, and neural connections. However, most doctors agree that lack of crawling is not ...
Personal & Social Skills