Young Children and the Whole Wide World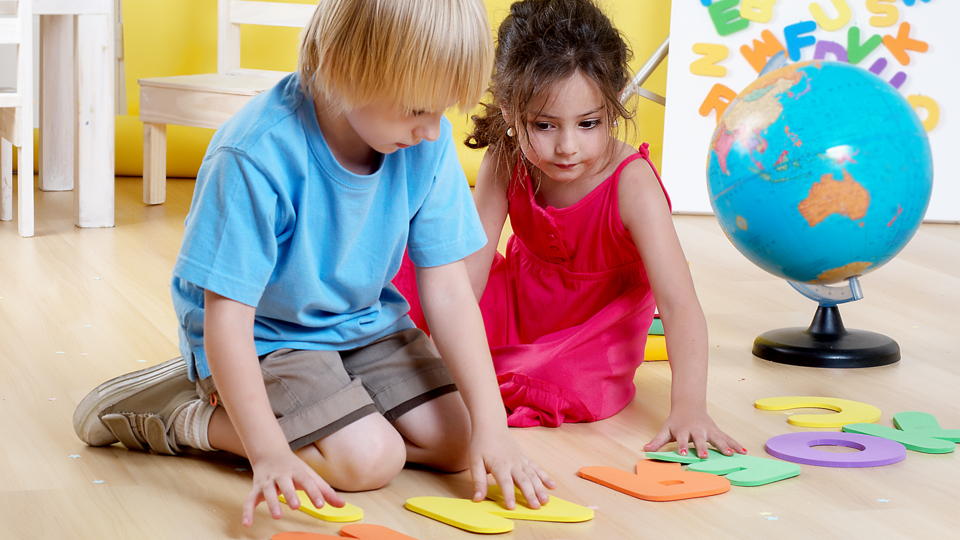 Helping children develop their global awareness through play and activities
---
Learning Stages
---

Infants begin to construct a concept of their surroundings as soon as they are born. Their developing senses are becoming acclimated to exciting new perceptions of sight, sound, and smell. Within the first few months, infants can already demonstrate their sense of their environment as they look for sources of sounds they hear, reach for toys that are just outside of their arm's length, and roll from side to side to attend to the many interesting activities around them.
Drawing on the work of child psychologist Jean Piaget, early childhood educators recognize that young children begin to develop their "sense of place" through play and exploration of their environment, learning about the many different places, people, plants, animals, and things they encounter every day. Developing this sense of place sets an important foundation for children to learn about the physical world around them and the social and cultural spaces they share with others.
As young children move from a self-centered, or ego-centric, view of the world, they become increasingly curious about the objects, events, and people beyond their immediate environment. Around the same time, young children entering preschool are also exposed to peers from different cultures and backgrounds. Exposure to and dialogue about different people and experiences form the basis of their developing geo-literacy – their understanding of the different parts of the world and its diversity of people and cultures.
The mere mention of geography might conjure up memories of tracing geopolitical borders and memorizing capitals and countries. But geo-literacy goes far beyond map skills and memorization. Age-appropriate lessons can include:


Exploring different homes, routines, and celebrations around the world;
Discovering different biomes and physical environments, and the animals and plants that live there
Investigating how the decisions we make and the actions we take impact local geographies
Speaking about these topics in the abstract can be difficult for your child to relate to and understand. Instead, special events that celebrate various cultural holidays are good starting points for discussion as a family. Where appropriate, encourage your child to participate in these activities rather than just observing them. Games and playful experiences that involve a map, a globe, or photographs of places and people from around the world can spark curious discussions about the world at large.
LeapFrog's LeapStart® Kids' World Atlas with Global Awareness, for children aged 4 to 6 years, offers over 30 pages of activities to explore world landmarks, cultures, animals and more. Through these activities, children can explore concepts of similarities and differences, build their global awareness, and exercise map and spatial skills. For slightly older children aged 5 to 7 years, Magic Adventure Globe™ offers an interactive experience to explore languages, cultures, animals, geography, and habitats through more than 5 hours of high-quality BBC live-action videos and animations. Three interactive games reinforce the learning so children can explore something new every time they spin the globe. Additional expansion packs continue the learning of passion topics such as dinosaurs, food, art and music, mythology, global inventions and pioneers (sold separately). Both of these products bring geography to life with playful activities, fun images and photography, and exciting voices. Whatever the experience, remember that learning about the world is not about rote memorization of facts and country names. Rather, it is about developing a sense of global awareness and citizenship.