Rhythm and groove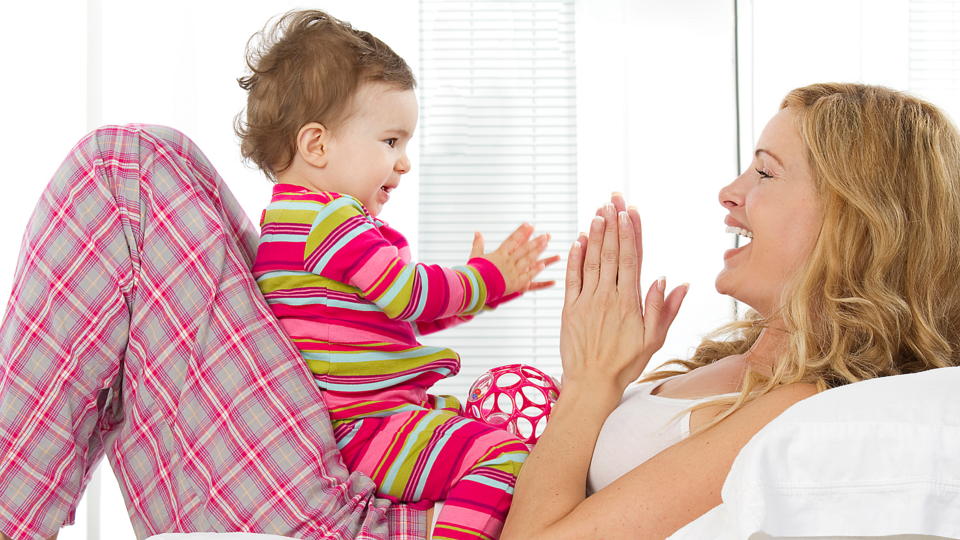 Get in the learning groove with these easy musical activities.
---
Music is a fun way to bond with your baby and it is also a great brain booster. The rhythms of music can help build the part of the brain that recognizes patterns.
You can orchestrate a symphony of fun for your baby! Here are a few, fun, simple music games to play with your child:
I've Got Rhythm: Get your infant comfortable and place a soft ball on her tummy or back. Gently pat the ball to the rhythm. With older toddlers, you can clap hands.
Musical Mama or Dada: Encourage your toddler to touch different parts of your face, hands, arms. For each place, use a different sound. The toddler can compose a masterpiece using the parent as a musical instrument.
Movement Games: Choose a song that provides instructions for a dance or a song that fits well with your own made-up movements. For example, sing "My Bonnie Lies Over the Ocean" and for every "B" word lift baby up or down. Babies love repetition and being raised and lowered over and over!
Shake, Shake, Shake: Babies who can sit up independently will love shaker eggs, maracas, and other instruments they can grip and shake. Older toddlers can make a "rain stick" from a paper towel tube and dried beans or rice. Encourage your baby to shake high, shake low, shake fast, shake slow and he will begin to learn these words.
And you can always just put on your favorite song and dance, dance, dance! Just like singing to baby, you do not need to have the best moves—you will be a superstar in your baby's eyes.