LeapReader vs. Tag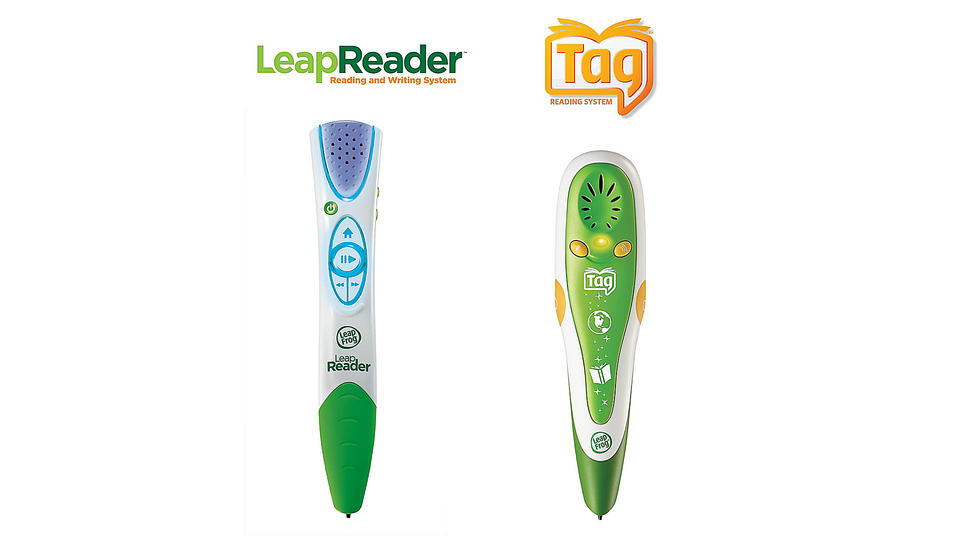 Learn how LeapReader™ compares to Tag™ and find out what parents, teachers and industry groups love most about LeapReader.
---
Since we introduced our LeapReader™ reading and writing system, parents and teachers have been raving about this new learn to-read-and-write solution. If you're familiar with our previous reading system, Tag™, you may be wondering about how the new LeapReader pen compares. To save you time, we read through hundreds of LeapReader reviews and summarized the top five features that parents, teachers and industry groups love most about LeapReader vs Tag.
Top 5 reasons parents love the LeapReader™ Reading & Writing System
It helps teach children how to read and write. Because children learn to read and write most effectively when practicing these skills together, LeapFrog developed the LeapReader system with integrated reading and writing fun. Now, children can practice not only sounding out letters and words, but they can also practice writing those letters and words using LeapReader. As children gain reading confidence, they can also practice reading complex sentences and playing games included in LeapReader books, flash cards, and play sets.
It provides a magical way to learn how to write with interactive feedback! With the Read & Write series of workbooks , LeapReader becomes a writing device—but only when you use it on the special paper included (no messes!). As children first trace letters and then practice writing on their own, LeapReader provides step-by-step audio instruction, so they learn to write letters and numbers the right way, with proper stroke order. LeapReader will even correct the child in an encouraging way until children master the activity.
It's an audio player too! Listening is an important skill for building overall literacy—which is why LeapFrog created LeapReader with a built-in audio player. LeapReader offers a library of nearly 100 audio books, music albums, and trivia challenges that you can download from the LeapFrog App Center. Your child can listen to popular stories like the Magic Tree House series and classic books like Clifford the Big Red Dog, sing along to learning songs and more. LeapReader even has a headphone jack to make learning on-the-go convenient.
It's USB rechargeable. That's right,- no more changing batteries. Just plug LeapReader into your computer with the included USB charger, and let the device charge on its own. A fully charged battery will last up to four hours.
Holds up to 40 books. LeapReader holds up to 40 books—about four times more content than the Tag reading system! Already have a collection of Tag books? No worries—LeapReader is compatible with most of them (see a list of compatible Tag titles). The entire LeapReader library includes more than 150 titles for children at different stages of the learn-to-read journey, so there's always more content to keep them engaged and learning! Watch LeapReader Library video.