Motor skill magic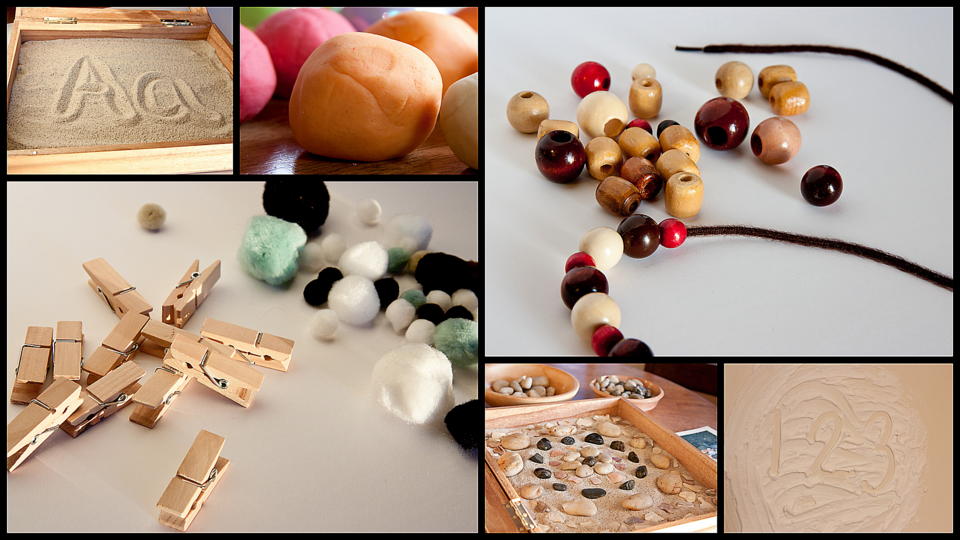 Fine tune fine motor skills with techniques created by a teacher.
---
Learning Stages
---

Building muscles in the hands can help children develop their small motor skills and eventually become confident writers. Contrary to what you might think, building muscles in your hands to become a better writer does not always have to mean holding a pencil and practicing letter formation. There are some really fun ways to help kids increase muscle strength in the hands and fingers.
Beading
Choose beads that your child is excited about and doesn't struggle too much with. Large wooden beads and shoelaces are great for beginners, while smaller Pony Beads may work best for kids with beading experience or fairly strong small motor skills to begin with.
Playing with tongs
Kitchen tongs can be added to just about any play experience for a little small motor fun. Think about adding them to your child's play kitchen at home, putting them in the bathtub with plastic balls to grab, or set up a sorting station with colorful pom-poms to move around. The act of opening and closing the tongs will build strength in fingers, hands, and forearms.
Pinching clothespins
We use clothespins in the classroom all the time for our job charts and I'm always surprised at how difficult it can be for some children. Pinching a clothespin and holding it open while trying to place it in a specific spot can be hard for little hands. Set up a chore chart for your child using clothespins, or turn a water table into a clothes washing station for doll clothes. This might even be a good excuse for bringing back the old fashioned clothesline in your backyard and having your kids help with the laundry! Another fun activity with clothespins is placing pom-pom balls in a tray of paint and having kids use clothespins to pick up the pom-poms and paint with them.
Squirting spray bottles
Do you need your plants watered? Grab a spray bottle and ask your kids to help! The repetitive squeezing is great for developing hand muscles. Spray bottles are also great in the pool or bathtub. One of my favorite activities on a dry day is to spray water pictures on fences, driveways or sidewalks.
Fingerpainting
Eye-hand coordination, small motor skills and sometimes large motor skills are being developed when kids fingerpaint. Often times, I see kids using different colors on different fingers, which really makes them have to think about the finger they are using and telling their brain to use only that particular finger. It's hard work! Other times, kids will use their entire arm to create paintings, developing shoulder muscles which are essential in writing.
Playing with shaving cream
Like fingerpainting, when kids play with shaving cream, they are using their fingers to draw pictures or practice writing letters, but also using shoulder muscles in their work. Spraying shaving cream on the walls of a bathtub or shower will provide easy clean up and you shower walls will come out nice and clean too! If you can't handle the musky smell of shaving cream, there are plenty of fruity-scented shaving creams on the market too.
Sand play
There's nothing like a day at the beach! Digging in the sand, building sand castles, picking up shells and rocks, and burying feet will all help build hand strength. If you don't have a beach nearby, think about adding a sandbox to your backyard. A sandbox with a cover is very important to keep critters away when it's not in use. Play sand (a cleaner version of traditional sand) is available at your local hardware store. Add sand toys, shells, rocks and even some water to create hours of fun!
Play dough and clay
Play dough and clay have always been my go-to activities for young kids. I love the commercial sets, but all you really need is a homemade batch of play dough, a rolling pin, a few cookie cutters, and maybe a plastic knife. I have made large, double batches, of play dough, small batches with Kool-aid, and even play doughwith spices added for a little seasonal fun. Pumpkin spice added to orange play dough, in the fall, is always fun, while a Christmas favorite has always been red and white peppermint scented play-do.
These activities are just the tip of the iceberg when it comes to play that can help develop small muscles. Be creative! Anything your child uses their hands to create will help when it comes to small motor development in the classroom.