Lovable Valentine's fun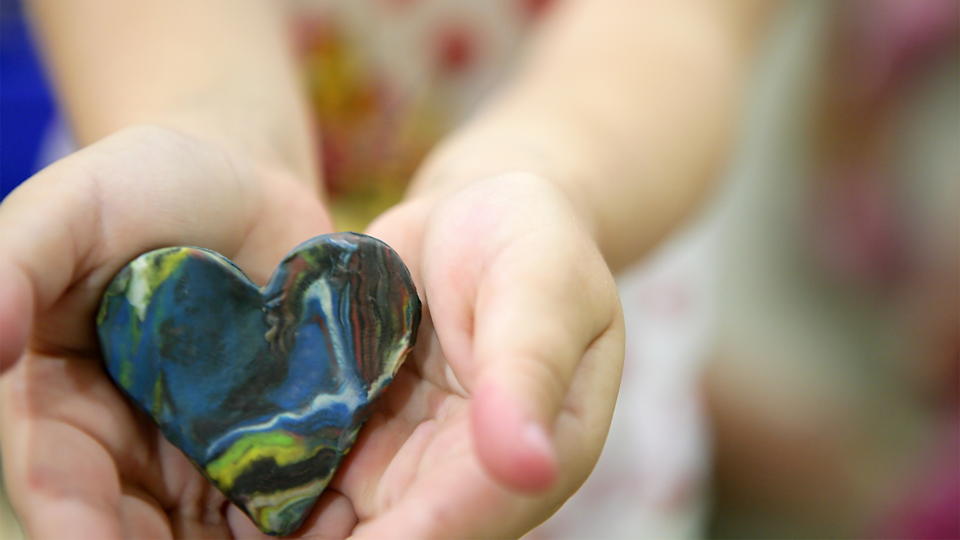 Get your child sweet on learning with these four fun activities.
---
Learning Stages
---

This is a great way to celebrate Valentine's Day with you little ones:
Sung to the tune of Do You Know the Muffin Man
Will you be my Valentine, Valentine, Valentine?
Will you be my Valentine?
I'll be yours if you'll be mine!
Some are red, some are blue.
Some have lace and ribbons, too.
Some are funny, some are not.
I like the candy ones a lot!
I love you from my head down to my toes
This activity is great for bigger preschool kids and grade schoolers:
Have your child trace around her foot on a piece of paper and cut it out. Add details to the foot by using small jewels or small pieces of wadded-up tissue paper for the toenails (we used red as if we were wearing red nail polish). Glue at the end of each toe as toenails. Include writing by adding this cute message to the foot, "I love you from my head down to my toes."
Valentine Sandwich
You will need a heart-shaped cookie cutter, bread, cream cheese and red food coloring. Mix the food coloring with the cream cheese until it is pink. Spread the cream cheese in between the two slices of bread. Then use the cookie cuter to cut the bread into a heart-shaped sandwich. Enjoy!
Conversation hearts
These little candy hearts are good to read, count, sort by color and eat. In our class we first estimate how many hearts we think will be in our individual box. Then we count to check. Next, we sort the candies by color and graph them to see which color we have more or fewer of. Then, have your child make his own conversation hearts by cutting hearts out of colored construction paper and writing phrases like the ones on the candies. If they make two of each, then they can visually match up the ones that go together, or you can use them as cards and play Memory or Go Fish.