I can do it myself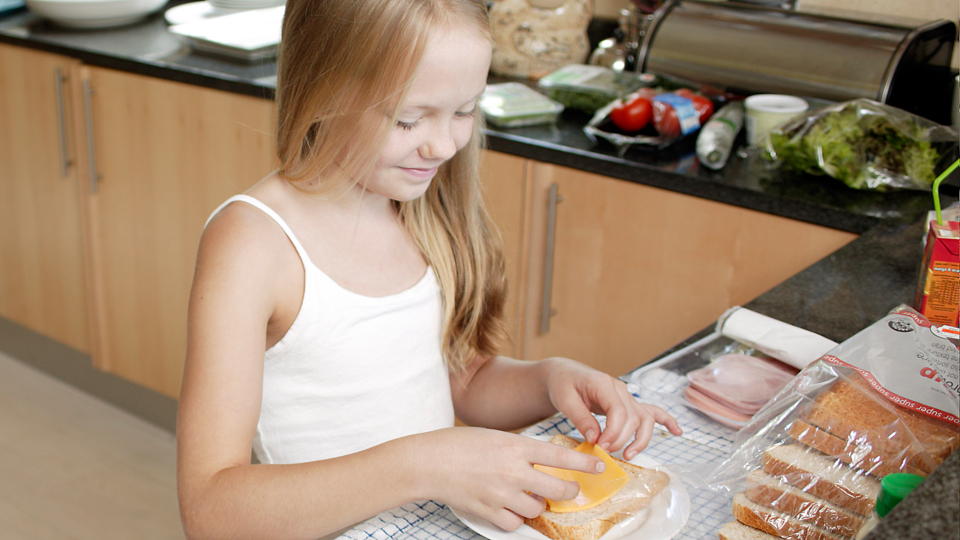 When you let your children prepare or assemble their own food, they gain a sense of accomplishment and may even acquire a taste for a greater variety of foods.
---
Learning Stages
---

When sandwiches are on the menu, I often send the unassembled ingredients to the class for the children to make themselves. The Head Start teachers I work with always thank me. Making their own sandwiches gives children a practical opportunity to use and develop their fine-motor skills.
Watching thousands of young children eat in their classrooms over the years, I have noticed that children eat better when they make their meals themselves. With a bit of planning, you can set up foods station at home and give your budding gourmet the chance to express their food preferences and practice emerging skills.
Self-serve food stations
Many foods can be topped with nutritious ingredients that can be set out in small bowls or divided containers. Here are some food station ideas:
Salad station. Allow them to add the veggies they prefer: mushrooms, tomatoes, radishes, etc.
Veggie burger station. Provide an array of of condiments and toppings
Baked potato station. Let them add fixins' such as veggies, shredded lowfat cheese, sour cream, chili

Pizza station. Top flat bread or english muffins with toppings such as veggies, cheeses, tofu, chicken or other meats
Cereal station. Let them mix in the following with hot cereal, cold cereal or yogurt: chopped nuts, raisins, or fruits such as bananas, berries and peaches
Kid-friendly plates and utensils
Ensure your child's make-it-yourself success with kid-sized plates and utensils. Kid-proof equipment will give you with reassurance and help minimize the mess. Your local restaurant supply or variety store is sure to have some fun and useful additions to your kitchen inventory.
Pint-sized pitchers: The perfect container for juice and milk, and with lids, they minimize mess. Tiny stainless steel pitchers work wells for syrup and sauces, as do "honey bears" and squeeze bottles.
Spoons: Select spoons small enough for your child to easily transfer food from bowls to plates, but large enough that it doesn't takes too long to serve a portion. Generally a suitable size is a bit larger than a soup spoon.
Small tongs: The ideal utensil for picking up shredded vegetables and cheese.
Knives: Butter knives work better than table knives for spreading.
Involve your child in cooking or assembling food
Even young children can roll their own burritos and make their own sandwiches. From cracking eggs to washing lettuce, children can participate in meal preparation in many ways. Always supervise your child and be sure to set and enforce the necessary safety rules in your kitchen. Forget about perfect presentation and let your kids enjoy wonderful learning opportunities and feel great about their contribution. In a few years, your child just might turn into a well-trained sous chef!