Get in the game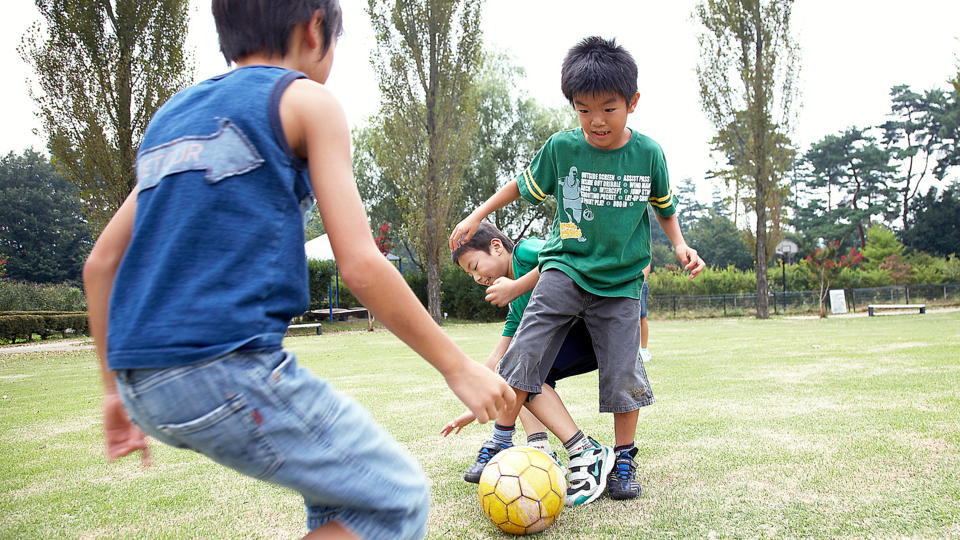 How playing sports gives kids a leg up for a lifetime.   
---
Learning Stages
---

Most parents want their kids to be successful in sports. But life doesn't deal us all little Michael Jordans, Derek Jeters, or Mia Hamms. What counts in the long run is not that your kids excel in sports, but that they try, that they learn what it's like to test their bodies in competition.
These tips will help you get your kids into the game, keep them from quitting, and develop their lifelong love of playing for the sheer fun of it.
Set expectations
When you insist that your kids play something, you are not being pushy. Rather, you are setting an expectation in one of life's fundamentals, just like "I expect you to go to school, on time, and to try hard." When my son was turning into an eight-year-old couch potato, I made it clear that I expected him to play some sport after school, the same expectation I had of his older sister who had, on her own, taken up gymnastics.
Match the sport to the child
Just because you were great at tennis or love watching basketball doesn't mean those sports are the best fits for your kids. Figure out your child's athletic inclination, and then find a sport to match. Because his eye-hand coordination was weak, my son hated playing catch. I could have insisted that we keep tossing a ball around in the park, and frustrated us both. But when I remembered that even as a baby he loved being in the water, I signed him up for a swim team try-out at the local YMCA. Within a year, my couch-potato was swimming two hours a day, five days a week, with no prompting from me.
Set short-term goals to prevent quitting
To keep your kids from quitting as soon as they "don't like it" or "get too tired" or "will never be any good," give them short term goals: "Finish one week (month, game, season), then we'll talk about it and you can make the final choice." When my daughter hit a low point and wanted to quit cross-country one year, I urged her to finish the month. After that, she decided to finish the season and signed up for the next year.
Be there
Don't expect yourself to make it to every game or event, but don't minimize the impact when you can attend. Your kids will carry the memory of your cheering them on into adulthood—and someday they'll pass that experience on to their own kids.
Show enthusiasm
Show your kids a positive attitude—even if you don't watch or play sports yourself. Get out there and play with them—even if you're not athletic yourself. What counts is your attitude, not your performance.