Kids' Thanksgiving chalkboard table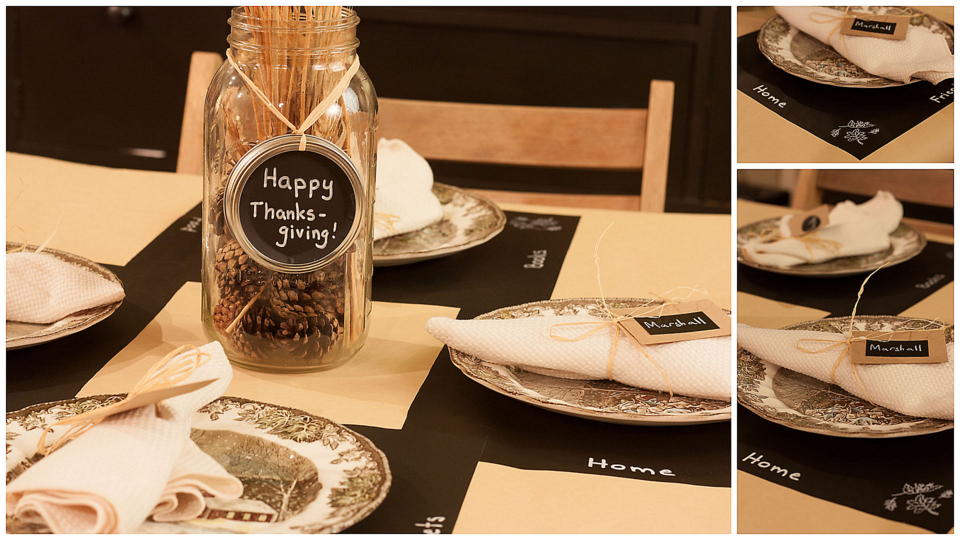 Keep young guests busy at the dinner table with a table setting kids can make on their own!
---
You'll Need
Tan craft paper
Chalk or chalk pens
Canning jar
Canning ring & lid
Chalkboard contact paper
Cardstock paper
Twine or raffia
Fall themed stamps
Scissors
Tape
Learning Stages
---

Thanksgiving is just around the corner! We love everything about Thanksgiving at our house, except that time of the day when we're frantically finishing up the cooking before guests arrive and the kids are whining because they can't stand waiting one more minute for their cousins to arrive. I know it's just because they love their cousins so much, but wouldn't it be nice to have a low-mess project to keep them busy?
Kids' table Thanksgiving projects
These three projects will keep kids busy creating placemats, nametags and a centerpiece sign for the kids' table.
Placemats
Cover the entire table with craft paper.
Cut several placemats out of the chalkboard contact paper and set them on the covered table.
Use fall-themed stamps to decorate the placemats.
Encourage guests to use chalk or chalk markers to write things they are thankful for on the placemat.
Nametags
Cut small pieces of craft paper cardstock for nametags.
Cut small pieces of chalkboard contact paper and glue them to the cardstock. These will be your labels.
Have your child write names of the guests on the nametags.
Use raffia or twine to tie the nametags around Thanksgiving napkins.
Centerpiece sign
Trace a canning lid onto a piece of the chalkboard contact paper. Cut out the circle and place it on the lid.
Glue or tape the lid into the ring.
Write a special Thanksgiving message.
Tie the ring onto the vase or centerpiece.
Be sure to leave chalk at the dinner table so all of the kids can write about things they are thankful for. Not only will your child have a project to keep them busy while you are cooking, but they will also be practicing their writing skills and making a great table setting for your Thanksgiving guests.
Happy Thanksgiving!