An invitation to write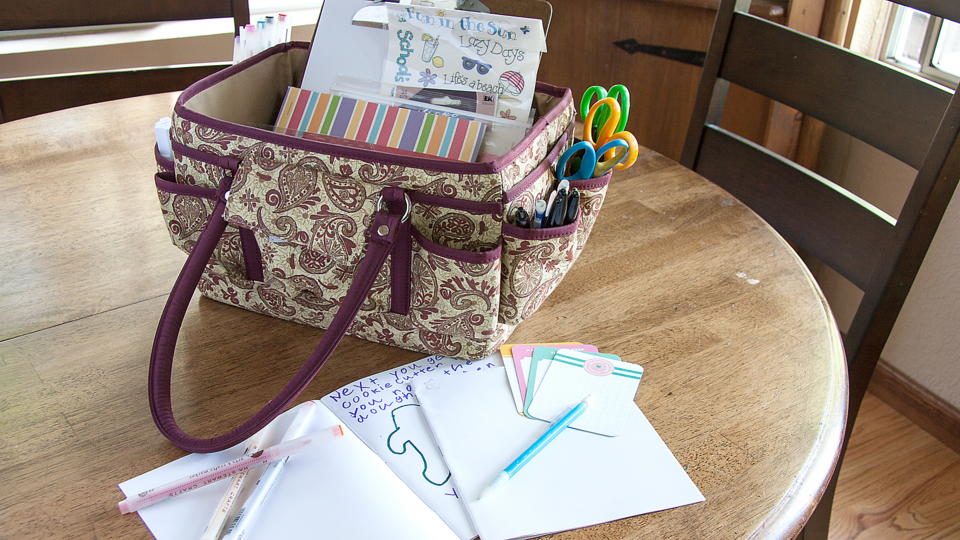 Encourage kids to be writers by setting up an inviting writing basket with cards, journals, stickers and markers.
---
You'll Need
Box or basket
Pens, pencils, crayons, or markers
Blank books
Cards & envelopes
Journaling cards
Stickers
Learning Stages
---

As school ended for the year, teachers across the country reminded their students to practice reading and math over summer. While I absolutely agree that reading and math are essential to keep up on over the summer, I also always encourage my students to add writing to the mix!
The more kids write, the stronger they become in reading, and the more kids read, the stronger they become in writing. This reading/writing connection helps develop phonemic awareness, phonics skills and sight-word recognition.
Do you have a plan for encouraging writing over the summer? Setting up an invitation to write is the way to go!
Create a writing basket
I set up a writing basket as an invitation to write and add a few fun elements to entice my little writers. Create blank books by stapling blank paper between two pieces of scrapbook paper and trim in to size. Sometimes, plain white books with plain white covers are the way to go as kids love creating their own book covers. To help young learners with directionality, put a little smiley face in the upper left corner. By doing this kids will see the book smiling at them and know they have the book facing the right direction. It also draws their eye to the left side, reminding them where their writing should start.
Once your writing invitation has been set up, your child may naturally come to explore! The first few times I did this in my own home, my daughter was eager to explore but eventually the excitement wore off. If that happens in your house, help your child decide what they should write. Introduce a new writing genre, talk about the difference between a narrative story, scrapbooking and journaling. Show your child examples written by a published author. This may be all of the motivation your child needs to get excited about writing.
Lead by example
If you've set up your invitation to write and your little author still does not seem interested, then it's time to lead by example! Talk about what you are writing and why you made that choice. Explain that you are writing a message to Grandma because you haven't seen her in a while, or talk about a recent trip and how you'd like to remember it. Encourage your child to write a how-to book with you about making a favorite type of cookie, or show your child how to create a simple 4-page book about funny things the family pet does. Writing side by side is very empowering for young children. When they see adults in their lives writing, they become excited to do the same thing!