Itsy-bitsy finger fun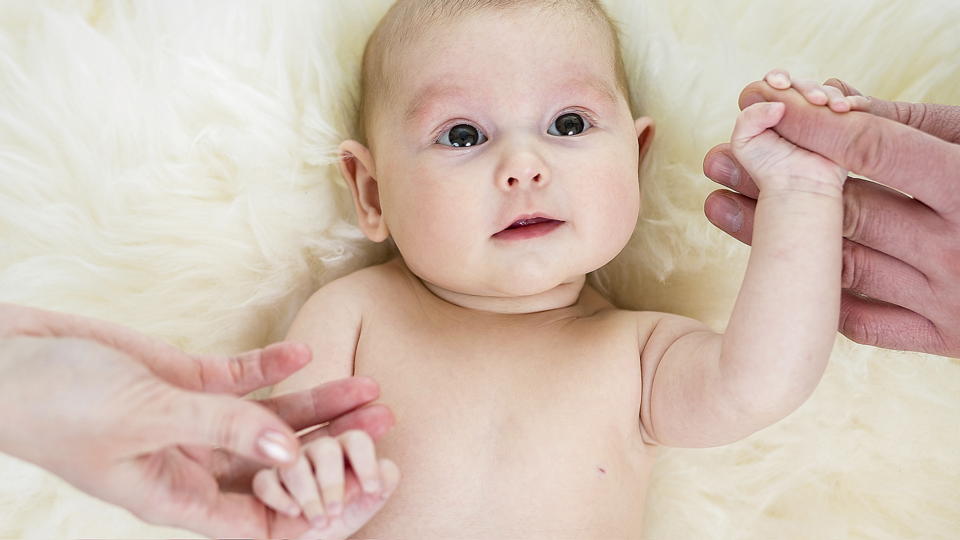 Help develop baby's fine motor skills by introducing finger plays. 
---
You'll Need
Nothing but your fingers!
Learning Stages
Babies are fascinated by the world around them. Some babies can sit up – which frees up their hands to explore. At this age they can hold small toys and food items. This may include passing toys from one hand to the other and it seems as if everything goes straight to their mouths! This age is perfect for starting fingerplays with your child, such as Twinkle Twinkle Little Star. Your baby will be fascinated by your singing and movements – and soon learn to imitate them!
Twinkle Twinkle Little Star has a long history. It originates in a French melody called Ah! Vous Dirai-Je, Maman. Mozart wrote variations on the tune in the 18th century, and the words of Jane Taylor's 1806 poem "The Star" were combined with the music some thirty years later. Parents and children around the world sing various words set to the tune (including the Alphabet Song!). You can download this world-famous song from Scout's online library. Scout can play the tune while you do the following fingerplay for your baby. Soon she'll be trying it too!

Twinkle twinkle little star (hold hands up and open and close them to the beat)
How I wonder what you are
Up above the world so high
Like a diamond in the sky (make a diamond by putting your two index fingers together and thumbs together)
Twinkle twinkle little star (hold hands up and open and close them to the beat)
How I wonder what you are