Home campout!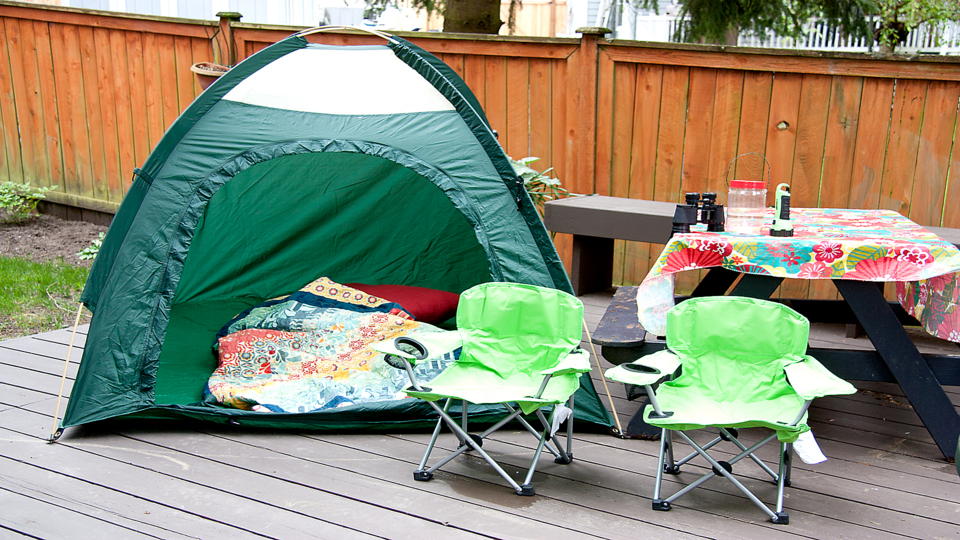 Set the stage for a great adventure right at home – and a love of reading to boot.
---
Learning Stages
---

People who know me well, know that I'm not a camper. There is a long list of things I don't love about camping, but I also know that a wide variety of experiences are essential in literacy development.
I love so many things that the experience of camping brings to the table. When kids in my classroom come back from a camping trip, they are full of excitement and bubbling with stories to tell, usually involving rich language.
Create a camping scene for your child in your own backyard, or even inside if the weather is not cooperating. Set up the experience with a few key items:
Small tent that's easy to set up
Picnic table
Camping chairs
Couple of flashlights
Now you've got a great camping experience right at home!
Crafty camping ideas
These simple crafts will add creativity to your experience and provide more opportunities to develop language skills:
Make binoculars out of toilet paper tubes.
Make a lantern from an old plastic jar with a battery operated tea light candle inside.
Make a fake fire pit and roast fake marshmallows while you prepare s'mores in the microwave. (Place a graham cracker, chocolate, and a marshmallow in the microwave for twelve seconds. Top with the other half of the graham cracker after it has cooked.)
As your child is playing, ask what they will use certain camping tools for. See if they can tell a story, integrating their tools. Ask your child to put on a play for you. This is a great opportunity to integrate new vocabulary words into play and see if your child can tell a story from beginning to end.
Camping booklist
Here are a few great books to go along with your camping fun:
Olivia Goes Camping by Alex Harvey
Maisy Goes Camping by Lucy Cousins
Camping: Discover Series Picture Book for Children, Xist Publishing
Camping by Nancy Hundal
Scaredy Squirrel Goes Camping by Melanie Watt
Caillou Goes Camping by Roger Harvey
S is for S'mores: A Camping Alphabet by Helen Foster James