Back-to-school ribbon notebooks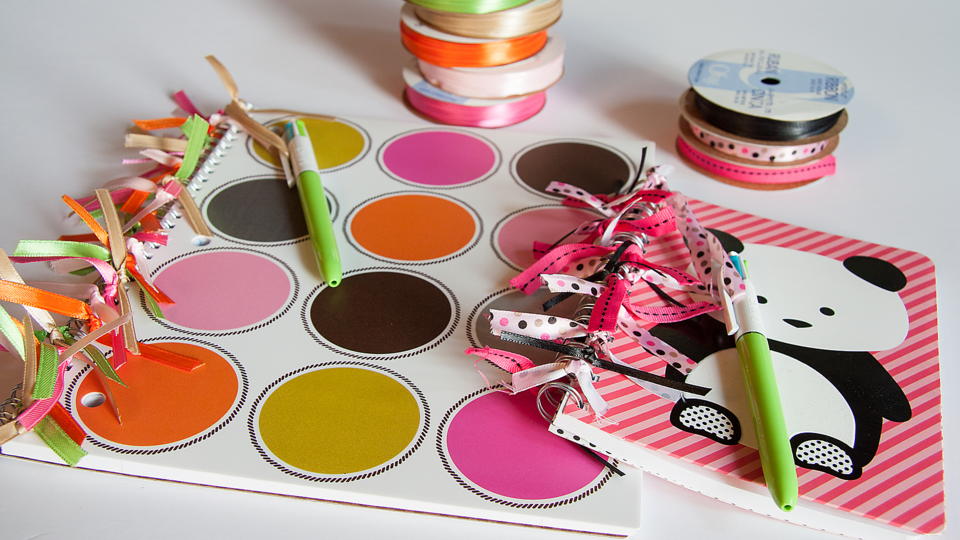 Inspire young writers with these ribbon-decorated notebooks.
---
You'll Need
Spiral notebook
Ribbon in cooordinating colors
Scissors
Pen to hang from ribbon
Learning Stages
---

I think my obsession with back-to-school supplies connects to the fact that I'm a teacher, but I know there are many other people out there just like me. My daughter and I were at the office supply store the other day and couldn't resist the brightly colored notebooks. We picked up two notebooks, a pack of fun color-changing pens and some ribbon. In just a short amount of time we had some really fun notebooks for back to school!
How to make the notebook
Choose your spiral notebook, any size will do
Choose a few pieces of ribbon, any color or pattern will do
Cut the ribbon into pieces and tie them to the spiral of the notebook
Trim the tied ribbon your desired legnth
Optional: cut a longer piece of ribbon, tie one end to the notebook and the other end to a colorful pen
A few ideas for using the notebook
A journal
Science notebook to record observations
Message book for writing notes back and forth with your child
Gratitude journal: Each day, write 3 things that made your day great
To-Do notebook: Make lists of things that need to be done each day
Sketch pad
Project journal
Back-to-school gifts for friends or teachers