Bird café: homemade bird feeder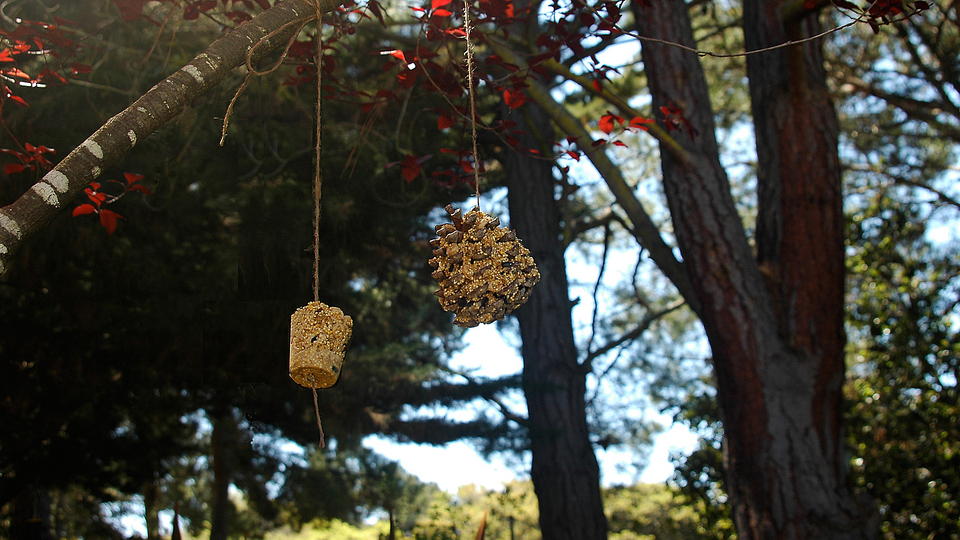 This easy homemade bird feeder will make your house the favorite among the feathered set.
---
You'll Need
Suet (available at pet stores)
Peanut butter
Wild birdseed
Sand
Raw sunflower seeds
Wheat germ
Millet
Raisins or currants
Unseasoned breadcrumbs
Cornmeal
Unsweetened organic cereals
Paper cups or yogurt containers
Pine cone
Scissors
Twine
Learning Stages
Inspire your child's interest in ornithology by mixing up a tasty treat to hang outside to attract feathered friends. During the winter, birds need to eat things with a higher fat content (suet and peanut butter) so they can stay warm. They also need grit (sand) to help with digestion. Add any amount of any of the other ingredients to make these appealing "tweets" for your neighborhood birds. Help your child follow the directions to below to make your tweet tweets.
Suet mixture
Over a low heat, melt the suet.
Remove from the stove and add about 2 spoonfuls of the peanut butter.
Add any or all of the other ingredients and stir well.
Cup feeder
Make a small hole through the bottom of the cup or container with scissors or a sharp object.
Knot the twine on the outside of the cup so that it cannot be pulled through. Leave a foot or more of twine to hang your feeder.

While still warm, press the suet mixture into the cup or container.
Refrigerate overnight.
Remove the cups and containers. Peel the cup from the mixture.
Pine cone feeder
Tie the twine around the top of the pine cone, leaving a foot or more to hang the feeder.
Use a spoon to smear the mixture over the pine cone and into the openings. (A large, open pine cone works best.)
Refrigerate overnight.
Hang the treats outside, ideally in a place where it is easy to observe the birds.
Spend time observing the birds with your child. Research the birds in a book or on the Internet to find out more about them. Try hanging the tweets in different areas. Do the birds come in the morning? What happens when several birds show up at once? Do different birds come in the spring and the winter?