My reading banner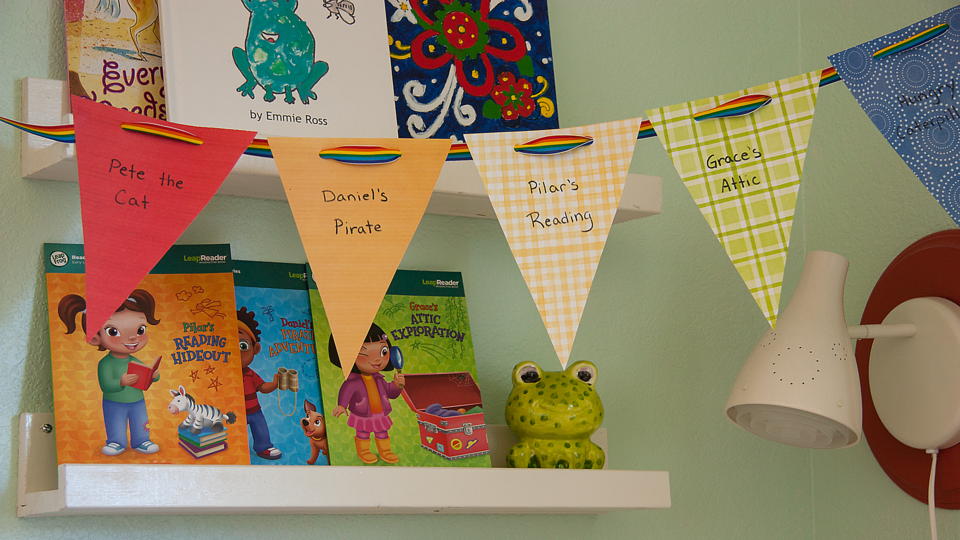 To help young readers document the books they've read, create a reading banner together!
---
You'll Need
1 piece of cardstock
Several pieces of colored paper
Pencil or markers
Riboon
Scissors
Hole punch
Learning Stages
---

In Pilar's Reading Hideout (part of the LeapReader™ Read & Write Book Set: Ready, Set, Kindergarten), Pilar is a little girl who is on a mission to read. I wish all of my students, as well as my own children, were on this mission with Pilar! Sometimes finding a love of reading takes a little encouragement. Celebrate each book your child reads by adding a new flag to his own personal reading banner!
How to make a reading banner
Cut out a triangle template for your flags on cardstock. If your child is an avid reader, you may want smaller triangles, with the expectation that there will be lots of little triangles to add. Another option would be to have large triangles and write a few books on each triangle.
Have your child trace the flag template onto colored paper or scrapbook paper. Holding a template with one hand and tracing with another can be challenging for young children. If a child is really struggling with this skill, I always suggest asking a buddy to help hold the template in place. After practicing on a few different occasions, most kids are able to pick up this new skill of having each of their hands doing a different task.
Have your child cut out the flags. Check your child's scissor grip as they are cutting out their triangles. Make sure their thumb is on top.
Punch two holes in the top of each triangle piece.
Get your child's banner started by writing the names of a few books your child had read (or listened to) on the flags. Writing for your child might look like copying the title, letter by letter. If your child is new to writing, it may look like a picture of something that reminds them of the book with one or two letters to represent the title of the story. Let your child know that however they choose to write, and wherever they are along this developmental continuum, their work is great! It is important to keep this part fun! It shouldn't be a chore, but rather a celebration. It's a great way to document learning, show growth over time, and encourage your child to communicate through writing. Set aside a few flags for future books.
String the ribbon through the holes and hang your banner. You might want to hang the banner at the front of your child's reading hideout, like Pilar and her friends do at the end of the story.
Celebrate each time a new triangle piece is added to the reading banner! Learning new things should be a true celebration at this age. Happy reading!!