Apple pie play dough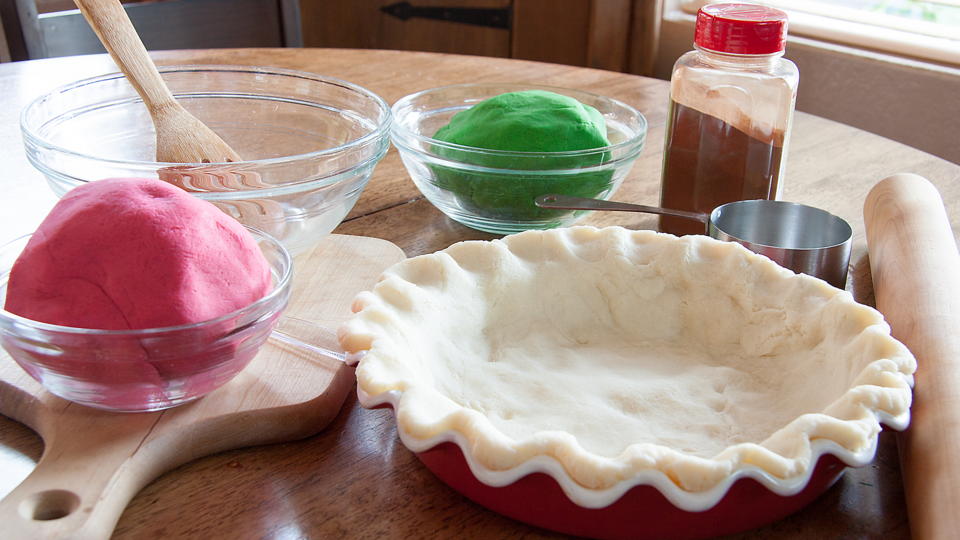 Create your own pie shop while enjoying this fall-themed educational activity.
---
You'll Need
2 cups flour
2 Tbsp cream of tartar
1/2 cup salt
2 Tbsp vegetable oil
1-1/2 cups boiling water
Cinnamon
Food coloring
Learning Stages
---

I change out the play dough in my classroom to match our current theme, which usually ties to the season. This week we are introducing apple pie play dough! Three batches of play dough, a few cooking tools, and a bit of cinnamon help make this the perfect activity for fall.
Play dough is an important part of our developmental play time each day. Young children often struggle with holding a pencil and cutting with scissors. Kneading, rolling, and tearing play dough will help build those small muscles in the hands and better prepare kids for the small motor work involved with writing and art. It's also a great opportunity to develop imaginative play skills. Kids will love creating their own pie shop!
How to make play dough
This recipe will be enough to make one batch of white/cream play dough. This batch was used as the pie crust.
Combine dry ingredients in a bowl. Add boiling water and vegetable oil, and mix until the play dough is completely combined. If the dough seems sticky, add another tablespoon of flour. If it is too dry, add a few drops of vegetable oil.
To make the second and third batches of green and red play dough, add the desired color of food coloring to the boiling water and vegetable oil before combining wet and dry ingredients. (I use concentrated food coloring, sold at craft stores, to achieve the vivid colors.)
Sprinkle 1 tsp of cinnamon into each of the green and red play doughs and knead to combine.
How to set up the activity
To set up this play dough activity like a real bakery, use real items from your kitchen. Pie plates, bowls, measuring cups, and spoons are great for dramatic play. Rolling pins, plastic knives, and cutting boards will come in handy too. Invite your child to create a pie for the family or several mini pies to sell. I don't encourage mixing the colors right away. It's best to start out with "pie crust" and "apples" before blending the colors together. Kids can slice the apples into bite sized pieces and place them in the pie plate. Sprinkling with a little cinnamon will add a bit more "flavor" to the pie and make it feel like a real cooking experience. It also adds another sensory detail that kids enjoy. Apple pie play dough has always been a classroom favorite and it's certain to become a favorite of your family as well!